Dogs are pets, but yours is so much more. Dogs are your playmate, strolling partner, and your child. He is your friend when you need an ear to listen to and a body to cuddle. Dogs become a member of our families. Additionally, family members can experience chilly weather when walking, have skin ailments that require protection, or look adorable in pink pajamas.
There is no justification needed for dressing your dog up. Nothing is better than an outfit your dog loves to wear that looks stunning. Simple Halloween social affairs, costume parties, birthdays, first dates, weddings, and many other events can be made more entertaining by a dog in a dress. Your dog should be able to move about freely while wearing dog clothing that is light, airy, and comfy. Additionally, the fit and size must be appropriate.
Dogs are energetic and extroverted creatures. Introduce them to more basic dog clothing options and the concept of wearing clothing before attempting to put on fancier outfits. Avoid overdressing the dog in layers of dog clothing. Once your dog is wearing the dress, watch how they behave. Check the fit and fabric if you see any discomfort or annoyance. Here are some dog dress options if you are interested in getting your dog a special outfit for that special event.
Gooby Fleece Vest Dog Sweater
Product Description:
The cozy Gooby Fleece Dog Vest can prevent your tiny dog from shivering when the cold weather arrives. Because it is constructed entirely of polyester, your dog will always be comfortable as the polyester helps keep moisture like snow or freezing rain out and warm air in. In addition, this little fleece dog vest is well-made, long-lasting, and safe.
With this fleece dog vest, you can quickly and conveniently dress your dog and head outside without struggling for minutes. In addition, this hassle-free tiny dog fleece glides on and off quickly in an emergency since it doesn't need any velcro or zippers to remain secure.
Winter weather exposes your dog's winter clothing to salt, snow, and all that disgusting sidewalk muck. Gobby designed the dog fleece vest to be machine washable so that any dirt can be readily removed. There's no need to wash it by hand or be concerned that one stroll will destroy this dog fleece jacket.
Dog Dress Tutu Skirt for Small Medium Girl Dogs
Product Description:
This formal white clothing will make your dog more gentle and graceful during weddings and is ideal for any formal occasion. This beautiful ball gown dress with flowers and a bowknot on the back makes your pet a wonderful princess. In addition, this white costume wedding dress makes your pet sparkling and charming to the audience.
This dress has a soft interior, skin-friendly cotton, is breathable, and is pleasant to wear all day, making it ideal for spring, summer, and fall. The exterior layer is lightweight lace, which has a beautiful appearance. The dress is beautifully made with tiny white beads all over it, and the skirt has six layers of giant, fluffy yarn that is so shiny and lovely that your dog will be the center of attention.
This dog tutu skirt is ideal for everyday use, vacation, pajamas, parties, or drag shows. It is appropriate for your pet to wear daily, during parties, weddings, holidays, ceremonies, anniversaries, traveling, taking pictures, etc.

Fitwarm Vintage Polka Dot Dog Dress
Product Description:
Buy this dog dress if you enjoy charming designs and polka dots. This vintage dress is especially fitting for small-breed dogs and does not apply to medium- or large-sized dog breeds. You must get this costume if you own a Maltese, Yorkie, Toy Poodle, Chihuahua, or Yorkie.
This dress is made entirely of polyester. Fitwarm provides soft, elastic, and breathable clothing for your dog, which is ideal for delicate skin. It has a classic polka-dot design and is embellished with a brown bowknot to make your pet stand out at the party.
It is ideal for formal occasions, weddings, birthday celebrations, Christmas and Thanksgiving photographs, and everyday wear because of the high-quality fabric detailing. In addition, the dress's pullover shape makes it easy to put on and take off, and the belly may be trimmed higher for quick poop breaks.
MaruPet Elegant Princess Lace Flower for Dogs
Product Description:
Another lovely costume made specifically for small dog breeds, this one's bee pattern may help your dog stand out when engaging in outdoor activities in the spring or summer. Before buying it, make sure your dog is a standard-sized pup.
This dress is made of luxurious, high-quality fabric, so you won't be dissatisfied. Your baby will be a sweet princess with this distinctive design since it is made of the highest quality material and is soft, breathable, and lightweight.
Every pet has a unique body shape, making it impossible to ensure that this piece of clothing will fit them all exactly. For this reason, you should take the size recommendations provided by the company into serious consideration.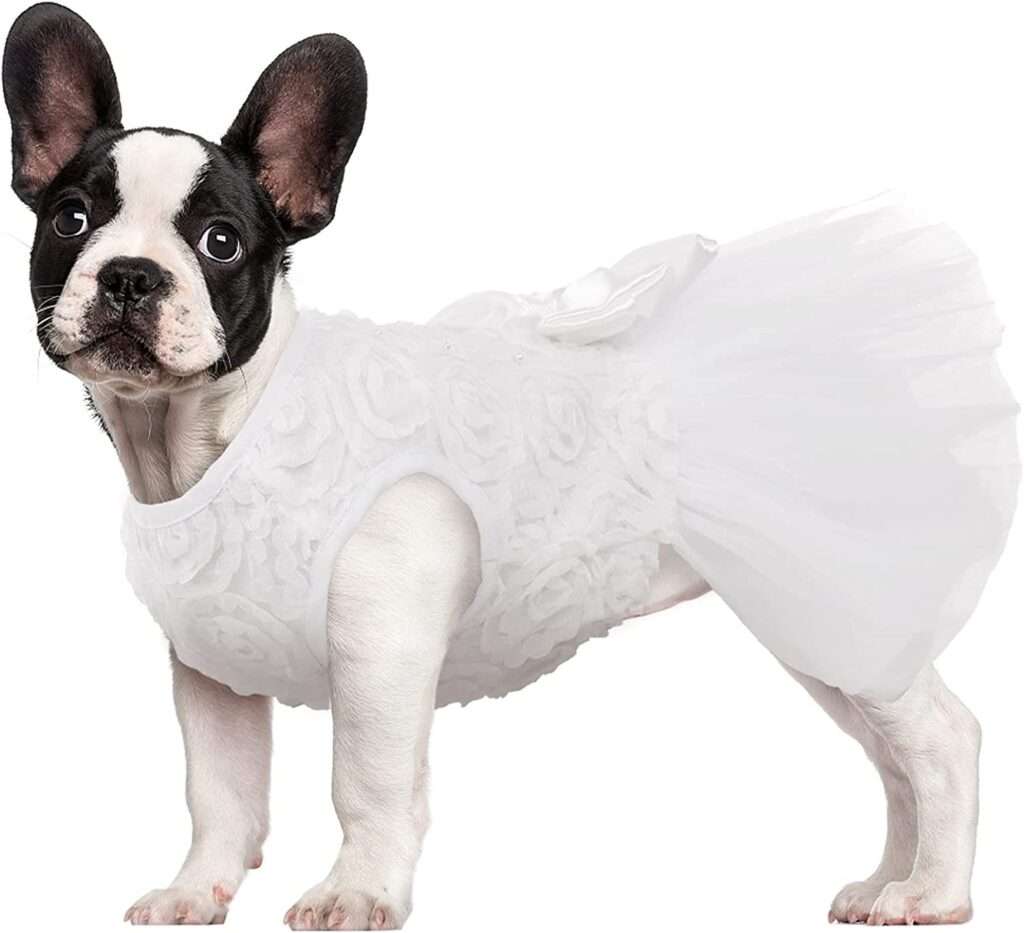 Product Description:
This next dress is adorable and has a very appealing appearance. It has a lace outside and a breathable, lightweight cotton interior, making it ideal for dogs with sensitive skin and allergy issues. In addition, it is cozy enough for your dogs to wear for an extended period.
There is a simple magic sticker design on the neck to put on and take off. The abdomen is designed with an elastic banding that extends to give a secure fit, increases your dog's comfort, and saves you time.
This white costume wedding dress is made of six layers of fluffy yarn, which ups the fashion factor and helps your pet stand out from the crowd. The lace and pearl bow on the back of this garment transform your pet into a beautiful princess. Both indoor and outdoor activities are perfect for the Kuoser Dog Lace Dress. It is appropriate for many special events, such as weddings, birthday shoots, and play dates.
KYEESE Dog Sweater Dress For Small Dogs
Product Description:
For years, our furry pals have sported high-end, fashionable clothing and undergarments designed by vogue fashion business KYEESE Wear. They carefully choose each fabric to make sure the dress is safe for our animal friends to wear.
In addition, this dress may be machine washed in cold water with similar colors and laid flat to dry. This fashionable dog sweater dress, complete with a sweet bowtie and stylish gingham patchwork, is a must-have addition to your pet's wardrobe.
Yorkies, Toy Poodles, and Mini Pins may all wear this dog sweater. This pullover dog sweater is composed of acrylic, which is smooth, stretchy, and well-fitting. Make your dog feel special by investing in this dress.

PUPTECK Classic Plaid Dog Dress
Product Description:
The final garment on the list is constructed of plush and comfortable polyester material, and because it is lighter overall, dogs won't feel overextended. Additionally, your pet will feel good wearing it because it is breathable.
These pet dog costumes come in various designs, keeping your dog looking adorable and charming. These designs include traditional plaid styles, birthday exclusives, fashion printing, and American girls. This dress is perfect for a party, holiday, or everyday wear.
Its elegant black button design and flawless construction make it simple to put on and take off. The button switch is also more robust than the magic strip, which means your dog cannot escape the clothing. These adorable dog dresses are made for tiny and medium-sized canines.
Conclusion
It's always entertaining to dress up your dog for the evening. The proper size, pattern, and fabric type must be chosen because it's not usually an easy process. Considering your dog's safety and general comfort is essential. If you want to make dog outfits more attractive, there might be a ton of strings, laces, and ribbons. You may select a V-neck or round neck and the number of pearls, bows, and ribbons, according to the occasion. However, wearing dog attire might not always be cozy. Consider how your dog might feel wearing a particular article of clothes.
Follow the manufacturer's instructions and use their size chart to measure your dog's girth, length, and neck region. Not just dog costumes but any canine clothing falls within this category. You might wish to choose a size larger than the dimensions you record to be on the safe side. However, your dog's ability to move should not be hampered by the length, fit, or style of its clothing. Additionally, a dress that can be machine washed is always favored over delicate hand-wash alternatives.