Dogs are highly food oriented, which may be helpful when teaching your new puppy. Simply introducing some yummy puppy treats as a training reward will do wonders for capturing their attention. However, it is easy to stray into an imbalanced diet by feeding unhealthy, high-fat sweets while training.
Food treats are excellent for rewarding and teaching your dog, and they are usually the most practical and effective approach to influencing your dog's behavior. When your dog is learning positive behavior, it is critical to keep them engaged, and a consistent reward rate by rewarding them frequently can help retain their attention.
Choosing puppy treats as a training reward for your dog might be difficult. You don't want to give your dog a calorie-laden goodie, Especially since you'll be giving them many treats at once.
Several dog treats on the market are rich in fat and include artificial preservatives, which are bad for your dog's health. Check out this list of our favorite puppy treats for training if you're concerned about your dog's weight or simply seeking a healthier option.
Wellness Soft Puppy Bites Natural Grain-Free Treats for Training
Product Description:
Wellness puppy treats are the first item on the list. These tasty grain-free soft snacks are created with two types of fresh meat, additional vitamins for pups, and a natural supply of DHA to encourage healthy brain development.
These moist and delicious snacks are prepared with whole fruits and vegetables, including superfoods like blueberries and sweet potatoes, for a natural flavor and antioxidant boost. With Wellness natural dog treats, you can feel good about teaching and praising your dog.
Wellness creates delectable delights using simple, natural, high-quality ingredients carefully selected for their nutritional advantages; no meat by-products, artificial colors, flavors, or preservatives. These bite-sized soft treats are ideal for rewarding your dog for good conduct during training sessions or at any other time.
Blue Buffalo BLUE Bits Natural Soft-Moist Training Dog Treats
Product Description:
The first component of BLUE Bits dog training treats is tasty chicken, making them an excellent reward for your best friend's most delicate behavior. It's ideal for tiny, medium, or large dogs that enjoy a meaty treat.
The BLUE Bits are soft, bite-sized morsels that are ideal for training. They're also an excellent puppy treat since they contain DHA, which aids cognitive development. The Blue Bits dog treats are free of corn, wheat, and soy and do not include chicken (or poultry) by-product meals.
These dog treats include no artificial preservatives or colors like propylene glycol. Blue Buffalo natural dog treats are made with nutritious, wholesome ingredients you'll like feeding as much as they will eating.
Old Mother Hubbard Bitz Natural Crunchy Dog Training Treats
Product Description:
Old Mother Hubbard Bitz Crunchy Classic Natural Dog Training Treats are nutritious, all-natural dog treats that are oven-baked to retain natural tastes.
Old Mother Hubbard continues to expand on this legacy by making various tasty dog treats. It is chewable and eatable, with all-natural components and diverse natural tastes such as chicken, liver, and veggies.
Snack time with your dog is a mutually gratifying display of love and positive reinforcement. With these Old Mother Hubbard natural dog treats, you can feel good about teaching and praising your dog.
Zuke's Puppy Naturals Puppy Treats Salmon and Chickpea Recipe
Product Description:
Begin your puppy's training experiences with Zuke's Puppy Naturals Puppy Treats. Every day with a Salmon and Chickpea recipe is an adventure for your puppy. These puppy-sized training treats are a reward for your dog's best performance.
Each delicious mouthful is handcrafted in the United States with the finest ingredients. Salmon is the first item on the menu, and there are no grains or gluten. These tasty treats also include DHA and EPA to assist a puppy's healthy brain development and extra vitamins and minerals for dogs that require a nutritional boost.
These snacks have only 3.5 calories per treat, making them ideal for guilt-free giving to a dog learning new behaviors. Each packet of these salmon dog treats reseals so you can take them on adventures and celebrate milestones with your puppy. You can enjoy life without a leash with these grain-free puppy dog treats.

Freeze-Dried Training Treats for Dogs
Product Description:
It is essential to hold your puppy's attention during training. It is the best training puppy treat on Amazon and is also suitable for dogs. You'll need a nutritious, high-value training treat that will make your life as a puppy parent 100x simpler to achieve your training objectives. These dog treats will interest your pup and help him retain their concentration.
These training treats are the healthiest on the market since they are made with essential, natural ingredients. Each reward is less than 1kcal, and each bag contains over 475 goodies, allowing for several rounds of training feats and directions. All of the ingredients and dog treats are created in the United States. All puppy treats are freeze-dried to preserve nutrition and flavor.
Your dog will salivate over the flavor of these, which is critical during a training session. Because of the excellent taste, savory scent, and compact size of each treat, your dog can focus better.
They're also ideal for a small incentive. A range of puppy treats is sometimes necessary for reinforcing your dog; thus, they have several varieties to choose from for the same incredible tasks.

Pet Botanics Training Rewards Puppy Treats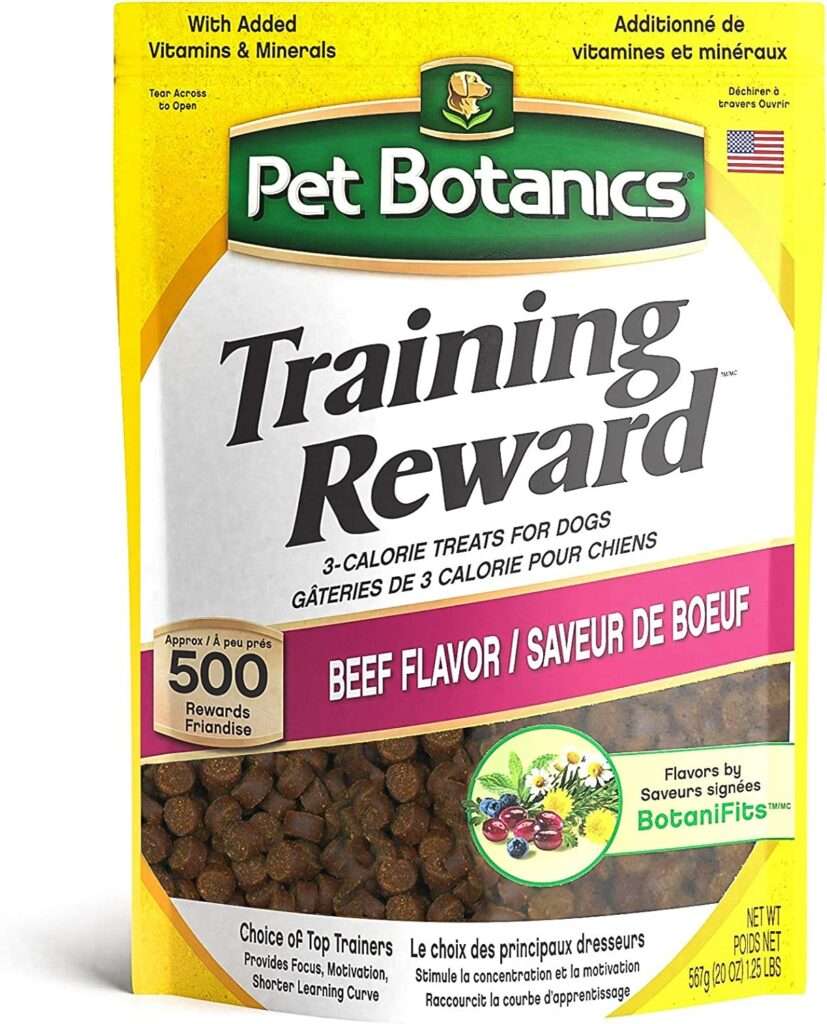 Product Description:
Pet Botanics Training Reward Beef Flavor Dog Treats are constructed with pork liver and genuine beef and have a smooth, moist texture and scent that dogs adore. The compact size is suitable for teaching incentives that must be given repeatedly. The meat is the main component, and real beef is used to provide your canine companion's tail a wag.
The first component of Pet Botanics treats is beef or poultry. Puppies and dogs adore the deep, meaty fragrance. Pet owners value the Pet Botanics Brand Promise, which guarantees quality, consistency, and safety. Training Reward, Mini Training Reward, Grain-Free Healthy Omega Treats, and Simply Salmon dog treats are all part of the Pet Botanics range.
No BHA, BHT, soy, or ethoxyquin is used in the natural preservative system, so you can be sure that your pet's treat is safe and nutritious. These unique meaty training treats will stimulate your dog to learn and help speed up the learning curve.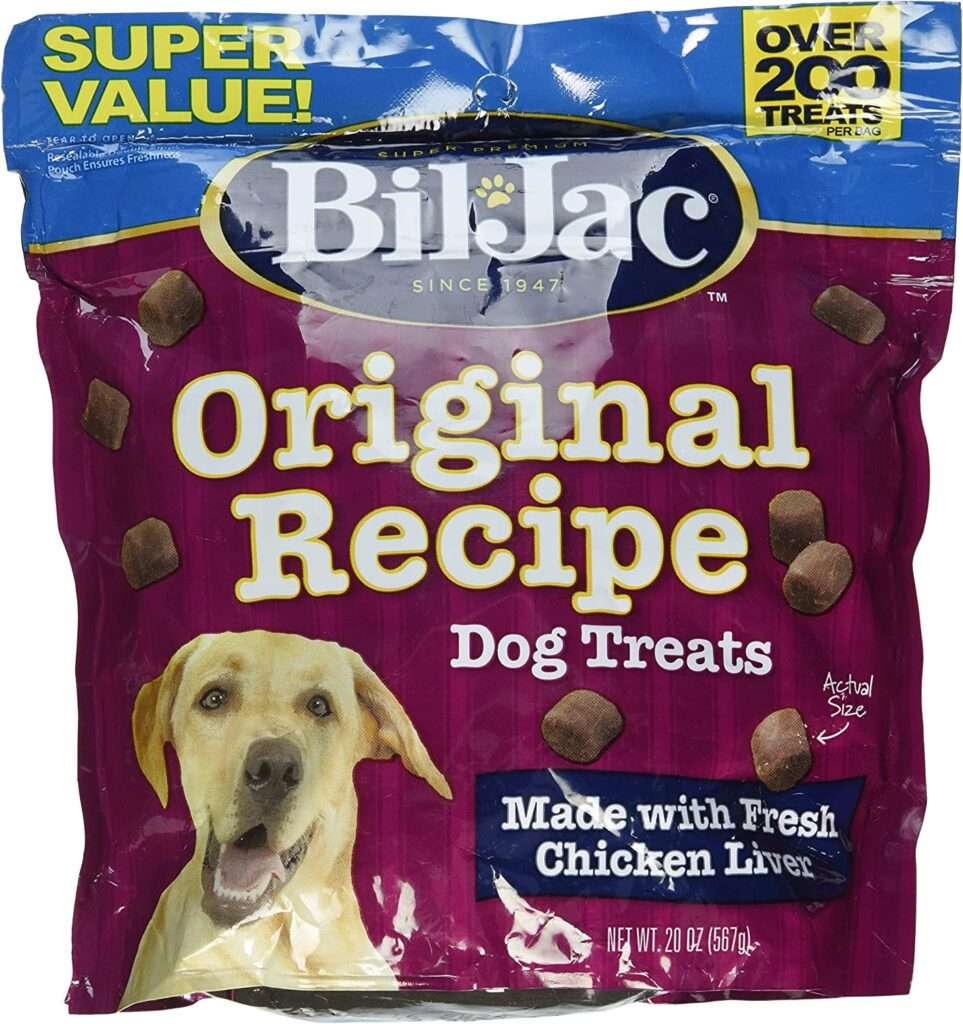 Product Description:
Dogs agree that BilJac Original Recipe's delicious soft & chewy treats are ideal for any occasion! You can use these treats to show your dog how much you adore him as a teaching tool and reward. Since 1947, BilJac frozen and dry
dog food
has been made in small batches in the United States with selected healthy grains, including antioxidants and fresh chicken.
The chicken liver dog treats are kept fresh in a resealable double zipper pouch. BilJac dog treats have no fillers, soy, or additional rendered fat to provide a minimal-ingredient soft reward treat that your dog will like.
Liver treats are usually popular with dogs, but the excellent stuff may be expensive. BilJac's liver treats are inexpensive to capture your puppy's attention during training. They're already little enough, but they can be squeezed into smaller pieces for more miniature puppies to eat.
Conclusion
All seven treats in this post are excellent choices if you're looking for healthy and natural puppy treats to utilize when puppy training. None contain nasties, so you can be assured that you are providing your puppy with a healthy start in life.
They are all tiny enough to fit in your palm, making them less likely to generate unneeded distractions while you and your four-legged buddy focus on training.
Soft treats are ideal for training since they are easier for your dog to consume. You want to ensure that after rewarding your dog for a particular act, the dog promptly repeats it.
For instance, if you teach your dog to love a crate, you want your dog to enjoy his time in it. You may train him to appreciate being in the container by offering him a slow-eating treat to help him pass the time.
Dogs prefer treats more than other pets. Changing things around is a terrific way to keep children engaged and interested in their training sessions. Depending on your teaching behavior, they have a treat that lasts as long as it's beneficial.
Patience and time are required when training your dog and teaching it new skills. Keep it enjoyable for both of you; that way, you'll be more inclined to attend the training sessions. This time spent together might be a fantastic opportunity for you and your dog to bond, and the best treat of all is your adoration and praise.