Dogs require a few necessities in life. We must provide our dogs with a warm, secure, and loving environment and a healthy diet, but we frequently fall short of their needs when it comes to water.
There are many excellent reasons to replace your dog's conventional bowl with a more contemporary dog water dispenser and fountain, but preserving clean drinking water for your pets is one of the most crucial ones.
We frequently leave our dog's water bowl until it has to be refilled. It may spoil and perhaps become contaminated during this period. But if you use a water fountain, your pet will always have access to cool, clean, freshwater and be hydrated and healthy.
No matter how thoroughly or frequently you believe you're cleaning your pet's bowls, a sound filtration system adds an extra level of security. Additionally, flowing water may be more alluring and encourage increased water consumption in some dogs and other pets.
We have the perfect list if you're searching for a dog water dispenser to keep your canine companion hydrated and healthy even on your busiest days. Check out 2022's best and safest dog water dispensers.
Petmate Mason Inspired Replendish Gravity Waterer
Product Description:
The Mason Gravity Waterer from Petmate allows you to spend more time with your pet and less time filling up their dish. With fewer refills needed by pet owners, the Petmate Replendish Mason Waterer offers dogs a tasty stream of fresh, filtered water.
This pet waterer is a gorgeous Mason jar that gives any space a rustic character. The Replendish dog water dish makes sure canines have easy access to a continuous supply of fresh water for pet owners who lead busy lives.
There are four models of this automated dog water dispenser. They range from 1/2 gallon to 4 gallons to accommodate pets of various sizes and households with several pets. The bottle is simple to remove from the bowl base for quick refills and hand cleaning.
With this Petmate water dispenser, your pet may consistently enjoy the excellent taste of filtered water thanks to an easily removable charcoal filter. For pet parents who are busy and want to provide their animals access to fresh water when they need it, this gravity waterer is a perfect option.

Loomla Dog Water Bowl Dispenser
Product Description:
Loomla takes delight in producing valuable household goods for daily use. Your dogs will receive the clean water they require for everyday health, thanks to the Loomla filters for pet water fountains!
Any unpleasant odors are eliminated with Loomla pet fountain filters, guaranteeing your pets have access to delicious-tasting water. The pet fountain filter will ensure your dogs' constant hydration.
You can tell the water is safe to drink since it is clear and fresh as it emerges from the spout. This dog water fountain has an LED indicator light so you can view the water level in the tank with ease.
It's a straightforward approach to assessing your pet's hydration requirements. No more trying to predict how much water they have. The cable that controls the light has a switch on it so you can quickly turn it on or off.
You can provide your dogs with the necessary healthy water intake thanks to the LED function of this pet fountain. It's simple and hassle-free for you to clean this autonomous pet fountain.
Instead of spending time cleaning out the water bowls for your dogs, you may provide them with the greatest care possible.
Petmate Aspen Pet Lebistro Gravity Waterer
Product Description:
The next dog water dispenser is the Aspen Pet Lebistro Gravity Waterer. This dog dispenser requires fewer refills while giving dogs a delightful fresh water supply. Also, it provides dogs simple access to a continuous water supply.
The reservoir gradually releases water as pets need to drink fresher, better-tasting water. With a twist-lock, the bottle easily detaches for quick hand cleaning and fastens firmly to the base for stability.
There are four versions of the water dispenser for dogs and cats, ranging from 1/2 gallon to 4 gallons, to suit animals of any size or families with several pets.
For convenient installation in any part of the house, the Aspen Pet Lebistro Gravity Waterer is available in a broad range of appealing colors.
Kurgo Gourd Travel Dog Water Bottle & Dog Water Dispenser
Product Description:
Everything you need to travel with your dog, whether to the dog park or across the nation on a long road trip, is designed and manufactured by Kurgo. This fantastic 2-in-1 item is for your closest fur baby.
Why carry more water for your dog when this pet container can serve both purposes? When you remove the bottom travel dish, your dog can rapidly drink from the bottom while you may pour water for your dog and drink from the top.
This dog water container is lightweight and practical. For active humans and dogs who like walking, hiking, jogging, or traveling, the Ultimate Kurgo water bottle is ideal. This dog water dispenser is dishwasher-safe, PVC-free, and BPA-free.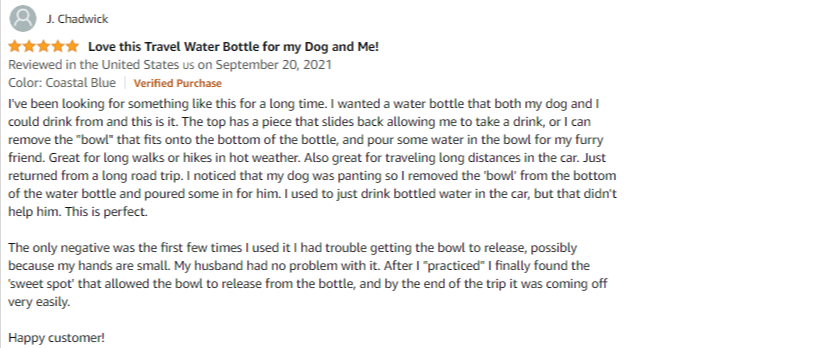 Ciays 236 oz/7L Pet Water Fountain
Product Description:
Your dogs should stay hydrated just as you should. Ciays pet drinking fountains provide several advantages for you and your four-legged pals. They give your dog access to clean, fresh water whenever needed and give you peace of mind when you're out and about.
Your animal friend may drink water from a large waterfall that two medium filtration systems have purified. The Ciays pet water fountain has ample water capacity for many pets to share. Your animal companion will love to drink more from the waterfall stream's imitation of nature.
Four filters that prevent dangerous substances and dog hair are included in the Ciays dog water fountain, which means fewer trips to the veterinarian. The ion exchange resin layer softens tap water, and the activated carbon eliminates bad tastes and odors for clean, healthful water.
PetFusion H2O Gravity Pet Water Dispenser
Product Description:
The PetFusion Gravity Water Feeder makes life easier for you and better for your pet. It has an automated gravity system that replenishes your pet's water supply, keeping them hydrated.
The water hopper has a retractable cover that makes the bottle simple to clean and automatically replenishes the water reservoir when levels fall low. It has a sizable detachable top for simple refilling. The large water bowl attaches and is locked into place for increased security.
This dog water dispenser has gravity to provide a steady flow of water. It is ideal for pet owners who lead hectic lives. It is composed of sturdy, BPA-free PP plastic that is pet-safe. Its smaller seams and water release prevent accumulation in the lower basin.

Lina Pets Dog Water Dispenser
Product Description:
This travel-friendly dog water bottle and dispenser is so helpful and convenient that it will make your outdoor activities with your dog more accessible and fun.
It is a portable dog water bottle that is leak-proof and has a 19-ounce water reservoir that delivers the water into a cup for sipping, quenching your pet's thirst without needing a water dish.
This dog travel water bottle is lightweight, portable, and ideal for any outdoor activity, including hiking, camping, beach trips, and other outdoor excursions.
This dog water bowl is created from non-toxic, BPA-free materials that are safe for animals and provide exceptional durability and long-lasting use. This dog water bottle dispenser is portable and has simple handling.
Outdoor activities, including hiking, camping, wildlife exploration, the beach, picnics, dog parks, and more, are ideal places to use this portable water bottle.

Conclusion
Using an automated dog water dispenser, as opposed to a traditional dog dish, has advantages. Your pet will be drawn to the sound of running water, encouraging them to drink more frequently.
Automatic water dispensers use large tanks to keep your pet's bowl filled. What size water dispenser do you need? Free-falling water stimulates dogs to drink and enhances water oxygenation. Getting your pet to drink one ounce of water per pound daily is a good goal. You will need to adjust the size appropriately if you have more than one dog or wish to have adequate water for more than a day.
Cleaning the automated dog water dispenser will be a deep concern, regardless of the model you select. While some devices may have several spouts or hoses, they will still require routine cleaning, even if they appear fine. Please share this article with your friends if you found these automated water dispenser reviews to be interesting and helpful.