There is no one-size-fits-all when it comes to dog beds because both dogs and puppies have different needs. You'll need basic details like your dog's age and weight to determine the perfect washable bed for them. But you'll also need more specific information, such as how they sleep, whether they run hot, whether they chew objects, urinate when anxious, or frequently drag mud into the home. You should examine what seems to make your dog the most comfortable, especially considering how much time they spend sleeping, just like you would when selecting a mattress.
You should be ready to buy a washable dog bed, whether your dog is a puppy or an older dog. The bed will become unclean if you want to use it for a long time since hair and grime will accumulate. Instead, you may hand wash it or toss it in the washer. Some aren't even machine washable and disintegrate rapidly. Some are made to tolerate almost anything, while others are even more resilient.
The perfect dog bed combines two qualities: pleasure for the dog and ease of maintenance for humans. A dog bed that the dog adores but is challenging to keep clean is an issue. If the dog seldom uses the bed, it negates the point of having a simple dog bed to clean. Finding high-quality, simple-to-clean dog beds is the holy grail for many dog owners. And if you're tired of spending a lot of time and energy cleaning your dog bedding, here are some excellent options to consider purchasing.
Brindle Shredded Memory Foam Dog Bed with Removable and Washable Cover
Product Description:
You've just discovered the ideal location for your pet to take a morning nap, an afternoon siesta, or an all-day slumber. The Brindle Memory Foam Pet Bed is for easy maintenance and long-lasting comfort. High-quality orthopedic memory foam relieves pressure points while providing comfort with a soft but sturdy fabric cover.
This memory foam has been shredded to create a comfortable, ventilated sleeping surface. To prevent the foam pieces from shifting or clumping as your pet rests, sewn inner baffles inside the bed hold them in place. In addition, the detachable, machine-washable, and dryer-safe soft cover makes cleaning it simple.
The Brindle Shredded Memory Foam Bed has a comfortable fabric cover and is incredibly resilient, easy to maintain, and adaptable. In the winter, your pet may curl up in the warm cloth, and it will stay cool and comfy in the summer. Additionally, this bed is designed to fit the majority of common dog crates.

JOYELF Memory Foam Washable Dog Bed
Product Description:
For ultimate comfort, the JOYELF's Memory Foam foundation fits your pet's body precisely because it is made of flame-resistant material. This dog bed's bottom material has a built-in rubber non-slip backing. The inner cover of this bed is ideal for elderly dogs that occasionally have accidents. The fabric also provides unrivaled warmth and comfort.
The bolster is large and fluffy, has high resilience, and is easily breathable. The base's high-density memory foam may offer the best possible sleep environment with exceptional comfort and durability. The bottom is coated with rubber granules to prevent the bed from sliding around. This bed offers a full circle of soft, comfortable, and cotton-padded bolsters that will protect your pet's neck.
This orthopedic dog bed looks excellent thanks to its concealed zipper. It includes an inside liner to keep liquids out of the memory foam. Remove the cover and zip it tight to machine wash the removable cover of this bed. Avoid prolonged submersion in water and tumble drying.
Lesure Memory Foam Washable Dog Bed
Product Description:
To help your pet sleep without overheating at night, choose the Lesure Memory Foam Washable Bed. Lesure's waterproof dog bed comprises 2.5 inches of high-density bamboo charcoal support foam on the bottom and cooling orthopedic memory foam on top. In addition, the Lesure Orthopedic Dog Bed boasts a silky, faux velvet fabric for added comfort and a cushioned bolster all around for 360 degrees of safe support.
The cushion's quilted design offers a stylish touch that looks wonderful throughout your house. Under the memory foam cover of this Lesure pet bed is a waterproof inner liner that keeps liquids from seeping inside.
This dog bed maintains its posture thanks to non-slip dots on the bottom. The waterproof lining and the zipped outer cover are detachable for hassle-free cleaning. Unfortunately, the foam of this bed is not washable.

MidWest Homes for Pets Deluxe Dog Bed - Machine Wash & Dryer Friendly
Product Description:
The velvety, tufted, and overstuffed QuiteTime Deluxe Ombre Swirl Pet Bed from MidWest Homes for Pets is the ideal pet bed for you if you want to indulge your best friend. This pet bed is perfect for a small dog weighing 11 to 25 pounds. These dog beds in neutral gray will go with any home decor and give your dog a relaxing spot to feel comfortable.
Every pet bed from Ombre Swirl has a non-slip bottom ideal for hardwood or tile flooring. They are designed to fit inside most regular dog crates and are machine clean and dryer safe. This bed gives your dog a cozy and appealing place to unwind. In addition, this bed can reshape and lie flat to dry after washing for the best results.
The Ombré Swirl pet bed is durable and requires little upkeep. The ultra-soft polyester won't pill up like fleece pet beds, and the tufted, velvety Poly Fiber cushion will withstand years of use. In addition, the bed is completely machine washable, so there's no need to struggle to take off a cover when it's time to clean.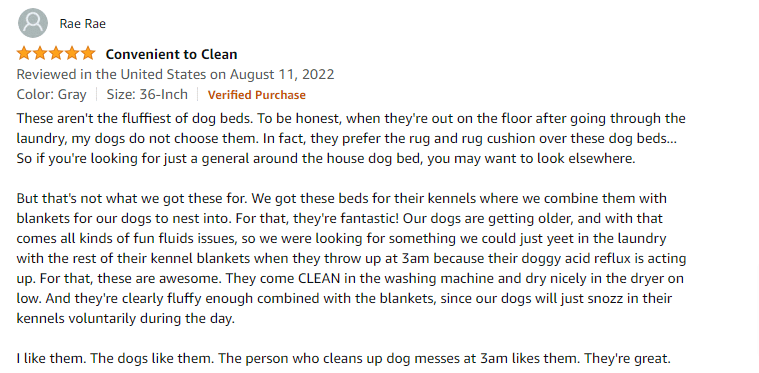 Laifug Orthopedic Memory Foam Dog Bed Pillow with Washable Cover
Product Description:
This bed contains solid memory foam and a waterproof liner to preserve your investment. Excellent for all dog ages, but especially beneficial for mature and older dogs that start to experience achy joints and arthritis. The liner's 100% waterproof nature will shield your foam from spills, mishaps, and smells. In addition, this bed has a removable cover that you can easily wash in the machine.
This bed's generously filled outer bolster, which offers good support and nesting potential, is its best feature. It relieves canines dealing with illnesses including arthritis, hip dysplasia, or other joint, bone, or muscle issues, as well as those recuperating from surgery or experiencing joint discomfort.
This bed has a water-resistant inner layer that considerably slows absorption. To make removal simpler, it includes two zippered compartments: one for foam and one for bolstering. Additionally, it is made of breathable and skin-safe material that your dog will like.
PetFusion Ultimate Dog Bed Memory Foam - Washable
Product Description:
This orthopedic dog bed's firm 4-inch memory foam is an ultra-premium basis for greater all-around comfort, decreased joint discomfort (arthritis), and increased health, mobility, and vitality. In addition, for dogs that experience anxiety, it serves as a calming dog bed. It is a sturdy and cozy polyester and cotton twill.
The base and bolsters of this large dog bed offer the best possible support, comfort, and security. Its waterproof lining and water-resistant, tear-resistant cover function together. It will blend in smoothly with your decor and features non-skid bottoms.
The Certi-PUR-US Memory foam used in this orthopedic dog bed contains no mercury, lead, formaldehyde, phthalates, or ozone depleters, which is the finest thing about it. Because of the low VOC emissions, your dog is safe while sleeping. It also passes the more rigid reach safety criteria set by Europe. In addition, its cover cloth has skin contact safe certification.
Conclusion
Most owners prefer at least one dog bed with a detachable cover since it offers some defense from mishaps, dirt, or drool from their dog. In addition, you can easily wash a dog bed with a removable cover, saving money on a brand-new dog bed.
Since you'll probably wash these covers frequently, a dog bed with detachable covers is practical—dogs like playing in the mud, running around outside, and then napping on their dog beds. In addition, having a washable dog bed cover can prevent you from buying a new dog bed or washing your complete dog bed, which will take time to dry.
Please ensure the bed can accommodate your entire dog once it is completely grown. If you get a dog bed that your dog will outgrow, it won't survive very long, and ultimately you'll have to buy a new one. A good general rule of thumb is to get a bed 6 inches longer than the projected length of your dog.
And last but not least, can the bed be washed? Dog beds are an item that needs routine upkeep. The bed frequently collects hair, filth, drool, and other materials. Our canine companions are dependable and unexpected. Accidents can happen at any time. We believe that having a detachable cover is your best bet if the worst happens. It might be too much for your appliances to put the entire bed in the washing.