Dogs are members of our family and deserve the greatest treatment possible. Allergens such as pollen grains, bird droppings, fungi, and saliva are trapped in your pet's fur. The longer the dog's fur remains dirty, the more difficult the issue will become for both the dog and the owner.
While dogs like exploring the wide outdoors, it's also an easy recipe for messes and dirty paws, as every dog owner knows. Dogs, unlike humans, do not require daily bathing to be clean, but you must clean their feet before entering the house. Apart from the risk of your dog bringing mud into your home if you don't clean them up, the last thing you want is for your dog to become distressed and begin licking filth and grime off their paws.
Dog paw cleaners come in a surprising number of sizes and designs, from ones ideal for taking on a road trip or cleaning at home to those with bristles. Continue reading for our recommendations of the best dog paw cleaners.
Dexas MudBuster Portable Dog Paw Cleaner
Product Description:
This paw cleaner is suitable for all dogs, whether you have a young puppy that enjoys a trip around the block or a more adventurous breed that joins you on treks. It's also a terrific item to bring on vacations and outings because it's so light and easy to stow, especially now that travel is starting to open up again.
The Dexas paw cleaner is designed in the shape of a cup, with an open-top lined with silicone bristles. The bristles will bend around each foot gently to loosen and remove debris from any crevices or hard-to-reach spots. Fill the cup halfway with water and dip your dog's paws in one at a time. Twist and twirl the paw cleaner to activate the strands and begin the cleaning process once your dog's paw is in the cup. 
Do the same with the next three paws. The gadget is incredibly easy to clean because it's composed of silicone. It's BPA-free, so it's especially safe for dogs. The MudBuster comes in three different sizes, so there's something for every dog. If you're unsure which size to choose, the small size fits dogs with paws up to two inches wide, the medium one fits dogs with paws up to two and a half inches wide, and the large size fits dogs with feet up to three and a half inches wide.
Musher's Secret Dog Paw Wax
Product Description:
Snow, ice, heat, and uneven surfaces like sand can all cause your dog's paws to burn, tear, or cut. The most well-known paw protection wax is Musher's Secret, but many others on the market work just as well. This Dog Paw Wax creates a protective layer between your dog's paw and the surface, preventing injury.
Vitamin E is used in this non-toxic, anti-allergenic formulation to help moisturize dogs' paws, repair wounds, and maintain general paw health. It dries quickly and is not untidy when applied as a thin coating on paw pads and between toes. It comes in various sizes, with the smallest weighing 60 grams and the largest weighing 200 grams for each pack of two.
Manufacturers indicate that using it twice or thrice per week (or more frequently in extreme heat or cold) makes dogs' skin considerably smoother, healthier, and shinier. Because dogs tend to lick unknown substances on their body, these natural waxes are made to be licked by dogs without causing toxicity or gastrointestinal problems.
Your dogs can go sledding, strolling, and hunting easily, and they will prefer the lack of restriction on their feet while romping in deep snow. Mushers' Secret Pet Paw Protection Wax conditions the paws and prevents ice from forming between the toes and pads. This product performed admirably on both snow and heated surfaces.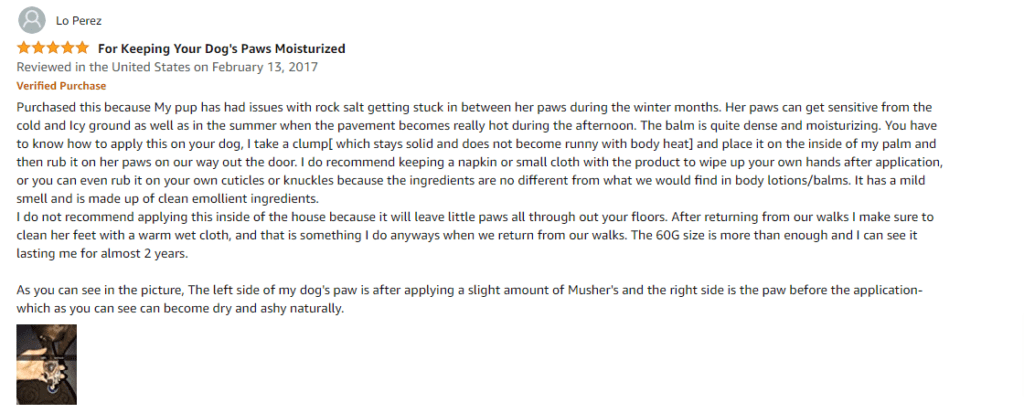 Burt's Bees for Pets for Dogs
Product Description:
Burt's Bees shampoo is a waterless, organic, herbal shampoo suitable for your dog's skin. This shampoo is developed to fulfill environmental safety requirements and is made with natural components, making it one of the best dog shampoos on the market. Human shampoos are acidic, with a PH of 5.2 to 6.2, but dogs' skin is alkaline at roughly 7.5. Human shampoos may irritate dogs' delicate skin, making them more susceptible to infections and parasites.
One of the most important obligations of having a dog as a family member is grooming. Grooming takes time and effort, and the ideal treatment for a dog's skin is an organic product with the proper PH. Burt's Bees shampoo is designed for dogs but may also be used on cats. However, the quantity, direction of application, and application timing may differ regarding other pets.
Burt's Bees dog shampoo is a high-quality, all-natural shampoo that cleans and nourishes your dog's skin and coat. Its soothing components soothe dry, irritated skin. After each bath, your dog's coat will be lustrous and velvety. It doesn't have a strong scent so that it won't annoy you or your dog. 
Some dog shampoos contain strong scents that both owners and dogs find disagreeable. The smell of honey and oats is there in Burt's Bees Dog Shampoo, but it is not overpowering. The fact that the odor dissipates rapidly indicates that the shampoo contains no artificial perfumes or chemical additions used only to make it smell nice.
Pet Head Oatmeal Natural Paw Butter
Product Description:
Massage your greatest friend's feet gently before and after walks or fun at the dog park! Pet Head Oatmeal Natural Paw Butter will give your furry friend much-needed TLC. There's no need to walk carefully after a dosage of paw butter because it's specially made to treat dry and chapped paws from hot or cold weather. Cats, dogs, and any other furry creature with claws are safe.
This ultra-nourishing paw butter is ideal for preventing chapped skin. The new coconut paw butter is an improved version with a fresh coconut cream scent liked by both dogs and their owners. It contains shea, mango butter, and natural oils and extracts. Even the driest and cracked paws and noses can benefit from paw butter. Coconut oil, vegetable protein, and aloe vera aid with their relaxing and healing characteristics, while oatmeal extract acts as an anti-inflammatory agent.
Pet Head provides all of these beneficial elements at an affordable price, making it the greatest dog paw balm for the money. The greatest issue is that your dog can lick it off before it has a chance to soak in, so keep an eye on them for a few minutes after applying it to ensure they don't lick it all off.
Natural Dog Company Paw Soother Trial Stick
Product Description:
The Natural Dog Company grew out of the owner's profound passion for animals, which he had since he was a child. This organization discovered advancements in employing all-natural substances to address unanticipated health conditions involving dogs and other pets. These efforts have become a purpose for the organization to promote a toxin-free lifestyle for dogs of all ages, sizes, and breeds.
The Paw Soother Stick is a thumb-sized twistable container that contains a soothing, moisturizing, and healing organic paw balm. It can prevent and treat irritations since it has all-natural, vegan, and organic components. As a result, your dog's paw soreness is reduced.
Cupuacu butter, coconut oil, hemp seed oil, jojoba oil, candelilla wax, chamomile, cajeput, Calendula, rosemary, and naturally produced vitamin E are some of the ingredients. The Natural Dog Company, unlike many other dog paw balms, meticulously handcrafts each stick to ensure that only natural ingredients are used.
Paw Soother is an all-natural balm that hydrates and nourishes your dog's skin, leaving their paws smooth and healthy. This vegan, organic balm comprises natural herbs, soft butter, and unique plant oils that work together to treat a variety of paw irritations. Paw Soother is great for dry, chapped, rough paws and cracked feet. It also helps remove scars and relieves discomfort from harsh weather, among other things.


Conclusion
While we would never say that a paw cleaner is a necessary tool, they are unquestionably useful if you obtain the appropriate one. The Natural Dog Company Paw Soother is best for travel and use. It may seem insignificant, but something as minor as this sets it apart from the competitors. The Dexas MudBuster is nearly as good but pricier. It doesn't have a handle, but it makes cleaning your dog's feet simple even while you're on the run.