Puppies learn about the world through their jaws. Thus they will chew on whatever they can get their teeth into. You may save your shoes and socks from ruin by supplying them with puppy toys that appeal to their teething impulses.
Pet lovers understand that their dog is not only distinctive due to breed but also has distinct personalities, much like their owners. Dogs of all ages and sizes have unique demands that must be fulfilled during playtime, and their puppy toys should reflect this.
Toys are essential for your dog's health. When it is important to leave your dog at home, toys keep them amused and provide comfort when they are distressed. When it comes to puppy toys, one of the most crucial factors is what purpose you want the toy to fulfill. If you're looking for a teething toy, materials like rubber and nylon may be quite soothing and can also assist in decreasing inflammation when placed in the freezer before usage.
To assist you, we've compiled a list of the finest dog toys for puppies, chewers, adult dogs, seniors, and more, so you may promote your pet's growth and help them live their best life.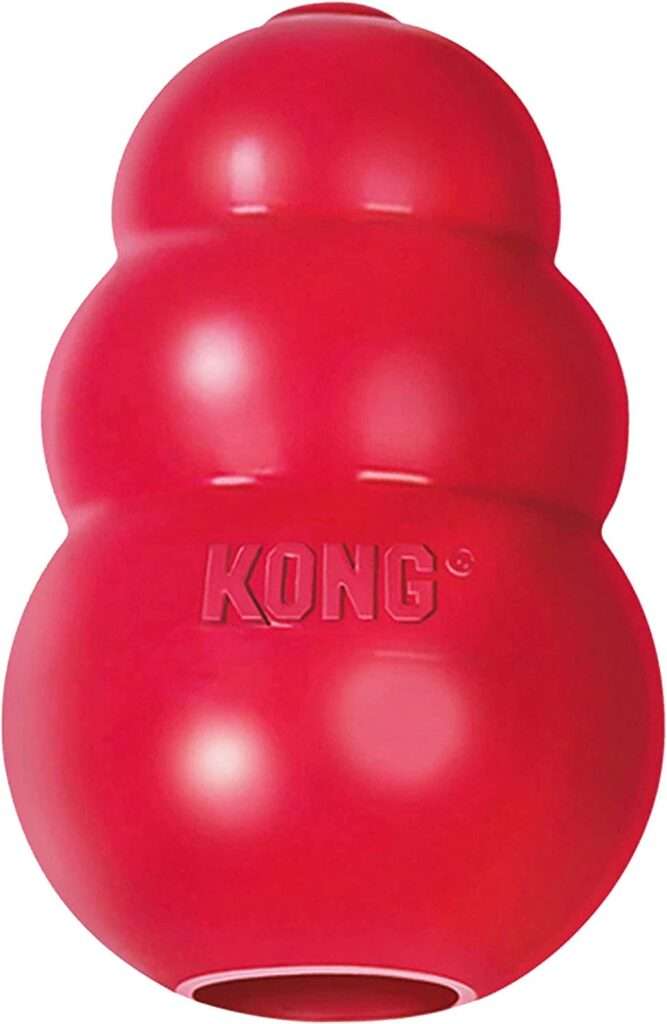 Product Description:
The KONG Classic red rubber toy satisfies dogs' basic instincts while stimulating their minds. Healthy play is essential for dogs' physical and mental growth, emotions, and behavior. The KONG Classic's unexpected bounce provides entertaining games of fetch and other interactive play with your pet.
It is an excellent method for typical chewers to get their daily workout. When filled with morsels of KONG Easy Treat, the stuffable KONG Classic becomes much more appealing. This dog toy is dishwasher safe, making cleanup a breeze.
You can freeze this KONG toy for 4-6 hours before presenting it to your dog for extra difficulty. Veterinarians and dog trainers worldwide suggest the KONG Classic as one of the most fabulous long-lasting dog toys.
ZippyPaws Skinny Peltz No Stuffing Squeaky Plush Dog and Puppy Toy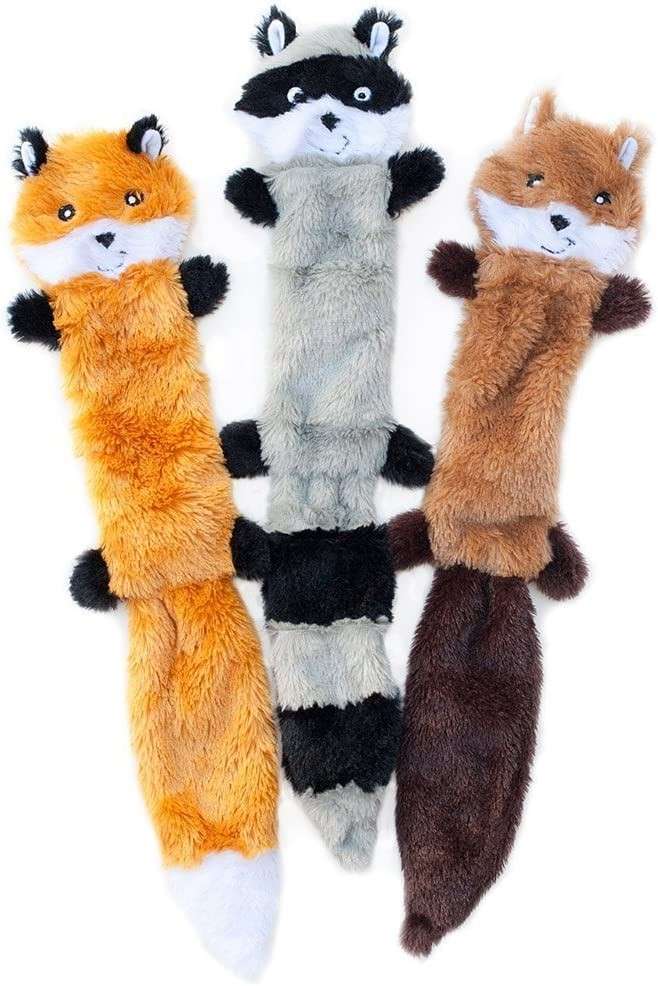 Product Description:
The ZippyPaws Skinny Peltz are no-stuffing plush dog toys that deliver hours of squeaking enjoyment without the need to clean up the fuzzy stuffing mess. This plush toy set features three huge figures that have been painstakingly brought to life using high-quality fabrics that are both durable and safe for your dogs.
The fox, raccoon, and squirrel will entertain your dog with exciting patterns and intriguing sounds. Each toy features three spherical squeakers, making it suitable for little dogs who like squeaking. This entertaining plush ensemble is 18 inches long and is ideal for medium dogs of all ages.
Dogs will spend hours playing with three charming forest creatures: the fox, raccoon, and squirrel. Each huge toy comes with three high-quality spherical squeakers to add extra sound and keep your best companion delighted. Skinny Peltz dog toys are made without filling to last longer and provide mess-free entertainment for both you and your dog.
SodaPup Hot Dog Durable Dog Chew
Product Description:
This is another fantastic puppy toy on the list. It cleans teeth, freshens your dog's breath, and eases teething puppies' painful gums. It also discourages destructive chewing in dogs and alleviates separation anxiety. This toy is fantastic because it calms scared or overstimulated dogs while providing cerebral stimulation and keeping dogs active and interested.
This puppy toy is made from patented PETstrong material, which is highly durable even for the most ferocious chewers. This nylon toy is one size fits all: thin enough for young chewers yet large enough for larger canines. Chewing can aid in the cleaning of your dog's teeth and gums.
These toys are manufactured from non-toxic proprietary materials with high tear strength to withstand damage, are BPA and phthalates-free, and are food-safe. Your dog will love this toy.

Petstages Orka Dental Links Dog Chew Toy
Product Description:
Petstages dog and puppy chew toys are a terrific way for canines to satisfy their natural chewing desires. These are safer and more lasting alternatives to splintering sticks, rawhide, and antlers. Petstages Orka Dental Links chew toys are designed for strong chewers, giving puppies a suitable option to redirect destructive activity and decrease boredom.
It is constructed of two reinforced rubber TPE rings with inner ribs and raised diamond patterns, as well as a central rope ring, and it helps clean teeth and gums while keeping your dog happy. Petstages' Orka Dental Links are a fun and interactive toy used in retrieve, toss, and tug-of-war activities.
Petstages Dog Toy Cool Teething Stick
Product Description:
Petstages teething toys provide distinctive noises that dogs love, such as grunting and crunching. The enjoyable noises and textures will keep pets entertained for hours. These plastic toys are for supervised play and are not ideal for aggressive chewers.
Small teething toys from Petstages are constructed with various textures to massage dogs' gums and enhance dental health. These toys are not ideal for aggressive chewers and are meant for teething pups or little biters.
Alternative chew toys from Petstages are a fantastic way for dogs to satisfy their natural chewing desires. These toys are not designed for retrieving, tossing, or tug play but for supervised chew time.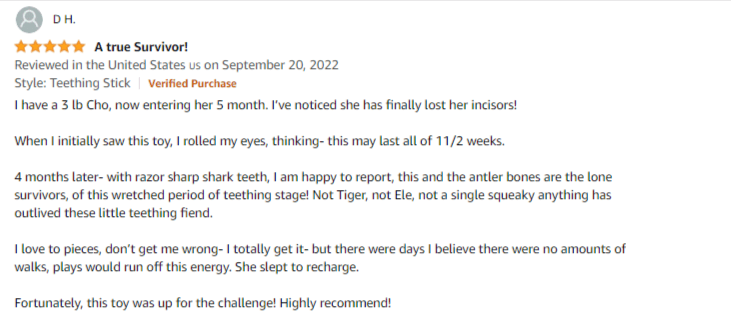 Outward Hound Nina Ottosson Interactive Treat Puzzle Dog Toy
Product Description:
Outward Hound Dog's Nina Ottosson Smart interactive dog puzzles are a great way to engage your dog in problem-solving activities. This level 1 dog puzzle toy has nine treat-concealing compartments that can be loaded with your pup's favorite goodies and are covered with nine dog bones that emit the delicious aroma of food via the top hole.
By setting your dog to work with a puzzle or game, you efficiently direct their attention and energy, decreasing boredom and destructive tendencies. Puzzles are also excellent for distracting dogs from fireworks, thunderstorms, and other stressful events.
Place the bones on the ground and watch your dog use his tiny brain to move the bones over to reveal the hidden prizes. You may also change the difficulty level by laying the bones flat or at an angle over the concealed sections. This puzzle toy comprises BPA, PVC, and phthalate-free food-safe composite materials.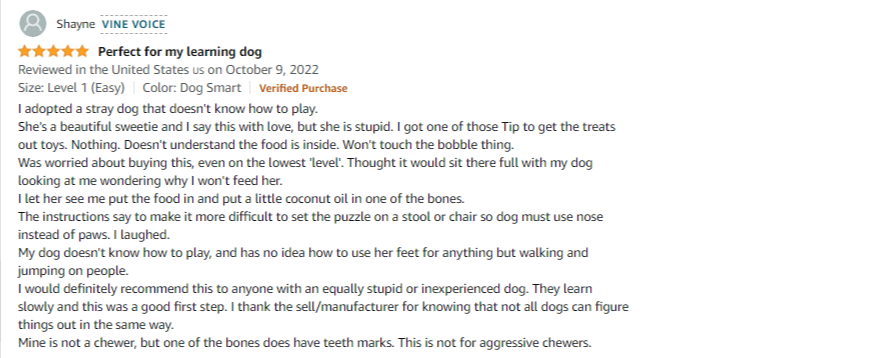 LECHONG Dog Rope Toys for Aggressive Chewers Tough Rope Chew Toys
Product Description:
This rope puppy toy is made of natural, washable cotton that is safe for your pet to gnaw on and play with. This practically indestructible dog toy will keep your dog entertained for hours. This design is intended for heavy chewers. It is 3 feet long, weighs 700 grams, and is made of tough and durable rope toys.
During teething, puppies adore chewing on anything and everything, so a decent rope toy is essential, but you don't want a thinly woven one that will be chewed up in a few days. Vets recommend this rope toy because it is simple and robust, so there is minimal possibility of a puppy chewing it up and ingesting it.
These long-lasting dog rope toys are ideal for relieving boredom and connecting with your pet. It is perfect for pups that are teething. It is composed of natural cotton, is washable, non-toxic, and odorless, and is suitable for chewing and playing with your dog.
Conclusion
If you're wondering how to wash a fabric dog toy, you're lucky since plush puppy toys are the most accessible dog toys to clean because they can be thrown in the washing machine. For this load, make sure you use a pet-friendly washing detergent.
Mental stimulation for a dog may be achieved by presenting them with toys that challenge them psychologically, such as a puzzle or interactive toys. You may also give them chances to learn new skills or engage in activities or search-and-rescue operations.
You may always check with your veterinarian to learn which toys suit your dog's breed. You may also look at our list of the best dog toys for puppies and big dogs, which includes a variety of some of the most fabulous dog toys, such as chew toys and indestructible toys.