We are happy that you have become puppy parents, and cheers to you on a puppy addition to the family. Like any new parent, you're gathering information on nutrition, toys, activities, pet insurance, and other topics. We know that the most crucial decision you'll make is selecting the best puppy food for your precious friend. You're undoubtedly stocking up on toys and dog beds in addition to having new, lively energy in your home. Of course, you're also concerned with finding the best dog chow available. In addition to providing your dog with a comfortable bed and entertaining them with fun toys, a pet parent's numerous duties are providing your friend with the best puppy food. Selecting the best puppy food for your new buddy is one of the most important decisions you can make as a pet owner. According to experts, the best puppy food may improve absorption and digestion and provide significant health benefits to your dog. After consulting with veterinarians and animal nutritionists, we chose some of the best puppy food across several categories and price ranges, including dry kibble, canned wet food, fresh food, and foods for puppies.
Purina Pro Plan High Protein Dry Puppy Food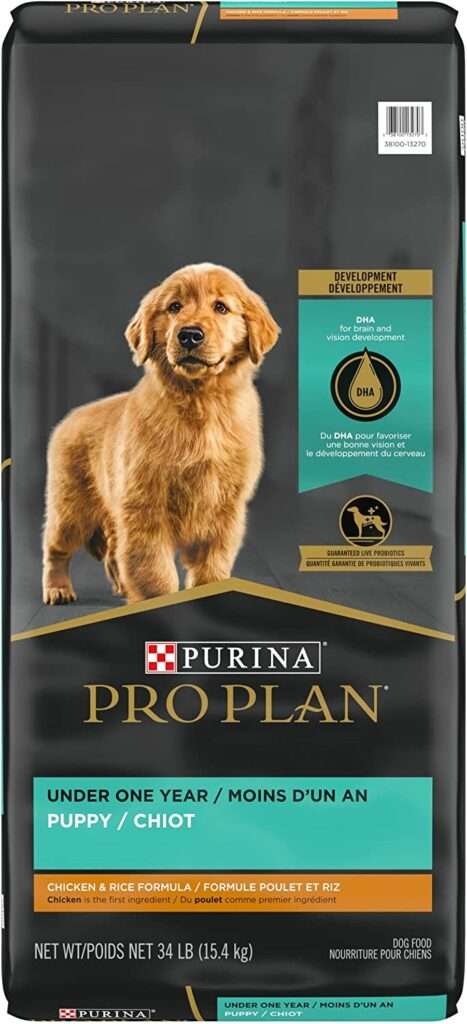 Product Description:
Purina Pro Plan formulas provide your puppy with the nutritious building blocks required for healthy growth and development. Its high-quality dry recipe contains exceptional puppy nutrition.
In addition, a selection of wet formulas with high-quality nutrients, exquisite flavors, and textures are available for pups. Purina Pro Plan Brand
Dog Food
Puppy Chicken and Rice Formula will meet your puppy's nutritional demands.
This puppy food contains high-quality protein sources, the first of which is chicken. It aids in developing strong muscles in your puppy, allowing pups to frolic for as long as they desire.
This puppy formula contains DHA from omega-rich fish oil, which supports brain and eyesight development, as well as calcium, phosphorus, and other minerals, which help grow strong teeth and bones.
You can be sure your puppy is receiving the complete and balanced nourishment that his body needs during this early development period.
Hill's Science Diet Dry Dog Food
Product Description:
Puppies have different nutritional requirements than adults, and your young small-breed dog is no exception. Small Bites by Hill's Science Diet Puppy dry food is specially created for the developmental needs of young puppies as they age into small mature dogs, ensuring that they have the most fabulous start in life and reach their full potential.
Give your little dog an excellent chicken taste in a small kibble form that provides DHA from fish oil for good brain and eye development, abundant protein for lean muscle building, and balanced minerals to encourage strong bones and teeth.
This natural small
dog food
is created with decades of cutting-edge research to be a great-tasting meal that a puppy may appreciate. The mission of Hill's Pet Nutrition is to help deepen and extend the special ties that individuals have with their dogs.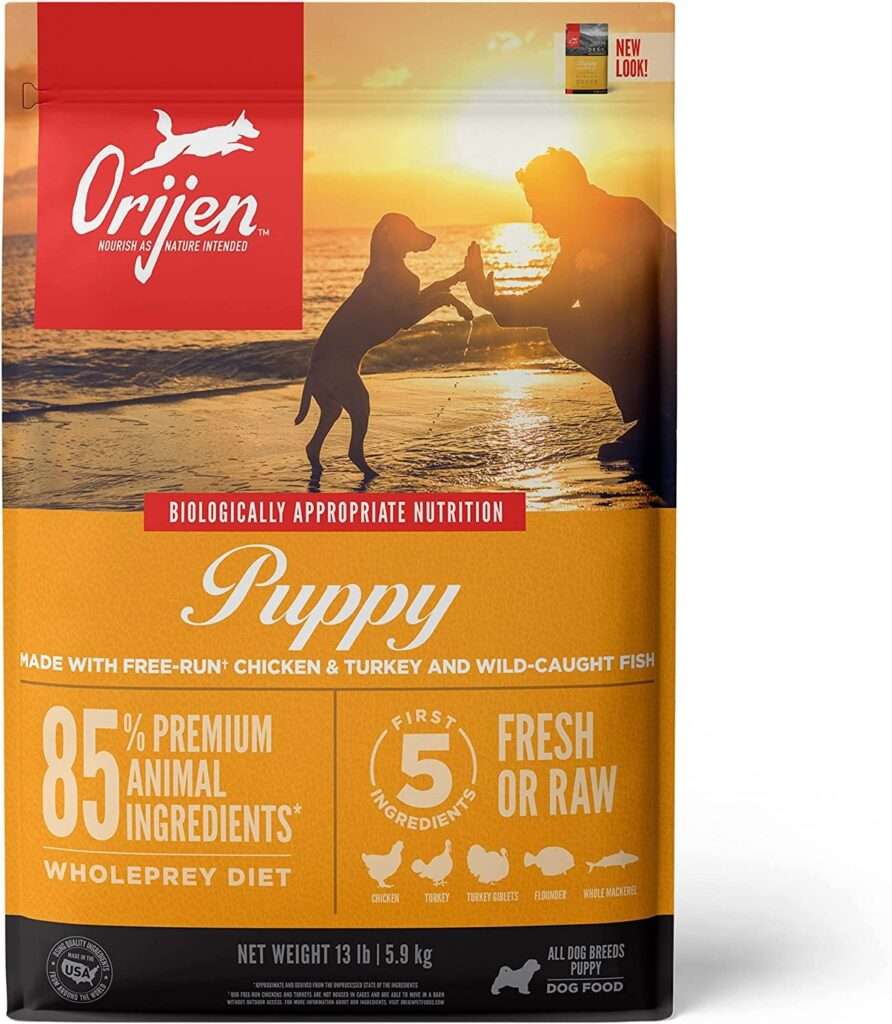 Product Description:
Since dogs are carnivores, their meals must be physiologically suitable and high in whole animal products. ORIJEN fresh ingredients are preserved just by refrigeration, and raw ingredients are the same as fresh foods but are frozen at the pinnacle of freshness to retain nutrients.
Orijen's puppy food feeds your dog in the way nature intended by concentrating on their physical requirement for a meat-packed, protein-rich diet.
This puppy chow is loaded with fresh, free-range chicken and turkey, wild-caught fish, and cage-free eggs, providing optimal nutrition for your dog's growing body.
Unlike traditional dog food, 2/3 of the animal components in this premium dog food are fresh or raw, ensuring that every bite is brimming with nutritious richness and flavor.

Wellness CORE Natural Grain-Free Dry Dog Food
Product Description:
Wellness CORE Natural Grain-Free Dry Dog Meal Chicken & Turkey Recipe is a nutritious, grain-free puppy food. It contains chicken, turkey, salmon oil, fruits and vegetables, and a smaller kibble size for pups to support your dog's maximum health.
This formula contains antioxidants, probiotics, vitamins, and minerals, a fish and flax omega mix for healthy skin and coat, DHA for brain and eye development, and calcium and phosphorus for bones and teeth.
Wellness CORE grain-free dog food recipes are founded on the nutritional premise that dogs thrive on a meat-based diet. Each grain-free, nutrient-rich mix gives your dog high-quality protein with no meat by-products or fillers.
Royal Canin Small Puppy Dry Dog Food
Product Description:
Royal Canin Small Puppy Dry Dog Food is designed to provide tailored nutrition for your small dog's healthy growth and development. Royal Canin continues to supply specialized nutrition to fuel your pet's growth.
This puppy diet has all of the proteins, minerals, and vitamins that pups require as they grow. Small tasty dog kibble is ideal for fussy eaters and dogs with small teeth and supports general healthy growth and well-being.
Royal Canin is the best puppy food because it contains highly digestible proteins and prebiotic nutrients that are gentle on delicate digestive systems and produce ideal stool quality.
PEDIGREE Puppy Growth & Protection Dry Dog Food
Product Description:
Pedigree believes in improving the world for all dogs and nourishing dogs' kindness in all of us. PEDIGREE is one of the world's most popular dog food brands, producing nutritious, tasty food for dogs of all shapes and sizes worldwide.
PEDIGREE Puppy Development and Protection Grilled Steak & Vegetable Flavor Dog Food is designed to keep your pup healthy and strong. This dry food mix contains DHA for healthy canine brain development and calcium and phosphorus for good teeth and bones in puppies.
This puppy meal also contains no high fructose corn syrup, artificial flavors, or sugar. It's never been easy to provide your growing dog with a complete and balanced meal in a delicious flavor they'll love, but with this recipe, you can.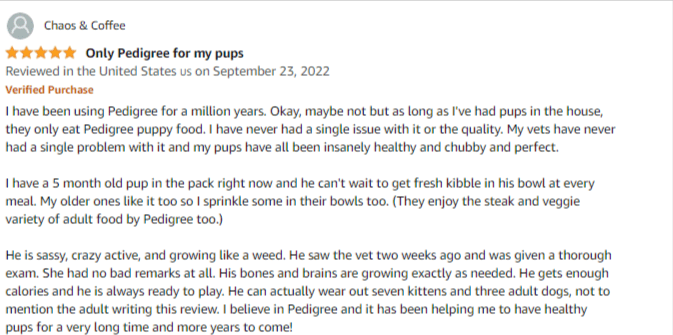 Blue Buffalo Life Protection Formula Natural Puppy Dry Dog Food
Product Description:
Because puppyhood is crucial in every dog's life, the components in BLUE Life Protection Formula for pups promote healthy growth and development. Real meat is always the primary component of Blue Buffalo meals. It contains high-quality protein derived from genuine chicken, which aids in the development and maintenance of healthy muscles in your dog.
This puppy food recipe is a precise combination of antioxidants, vitamins, and minerals. All components are hand-picked by holistic veterinarians and animal nutritionists to promote immune system health, life stage requirements, and a healthy oxidative balance.
BLUE dry dog snacks are prepared with the highest quality natural ingredients and are fortified with vitamins and minerals. There are no chicken (or poultry) by-product meals, corn, wheat, soy, artificial flavors, or preservatives in this recipe.
Conclusion
Puppies require a lot of energy to grow and develop; therefore, they must eat adequate calories. However, you don't want your puppy to become obese. A decent rule of thumb is to feed them twice a day and allow them to eat until they are done.
You may also consult your veterinarian to determine how much food your puppy needs according to age, breed, and activity level. Puppies require plenty of activity in addition to a balanced diet. Having a puppy in your life will offer you enormous joy and a lot of responsibility. Choosing the best puppy food for your doggy so that he grows up healthy and strong is a responsibility that every decent owner must take seriously.
Puppies should be fed according to their breed size to ensure that they receive the minerals and vitamins they require for the optimal development of bodily functions, bones, and muscles. When introducing a new meal to your puppy, please pay attention to his reactions.
If the dog enjoys the flavor, has regular bowel movements, and has a healthy coat and skin, that diet is a good fit for him. Healthy food is an investment for the long term, and your puppy is well worth it!