Dogs are great pets because they are always upbeat and welcoming to everyone who enters the house with their doggie wags. They do it no matter how long you've been gone. In short, your darling pet deserves nothing but the very best for him, including the fluffiest dog beds, the softest pet toys, and only the best dog food.
Depending on their size, age, condition, and stage of life,  a dog's dietary needs can vary greatly. Holistic vets believe that AAFCO-compliant food is an important thing to look for. It's up to a certified veterinary nutritionist or an animal nutritionist to inspect and approve the formulas to ensure they're balanced with the proper nutrients.
So, AAFCO statements (issued by the Association of American Feed Control Officials) should be examined on food cans or bags. In this way, it is verified that an independent third party tested the product's nutritional value. >br> Your veterinarian will always be able to provide you with the best advice regarding the type of dog food you need for your dog. But even if you are unable to schedule an appointment with your veterinarian, you can still pick the best food for your dog by reading through this article.
Since we researched nutritional certifications and talked to vets about recommending dog foods they trust, we came up with the following list. Listed below are the five choices we recommend you try.
Blue Buffalo Life Protection Dog Food
Product Description:
In most cases, meat is listed as the first component of dog food. Your dog's muscles can be kept in good shape and their health maintained by feeding them a diet abundant in high-quality chicken protein. Ingredients such as fresh vegetables, fruit, and whole grains are frequently featured in their recipes.
The Blue Buffalo Life Protection Formula was developed especially for toy and miniature breeds. The kibble size of dog food designed for small breeds is smaller, and the amount of protein and carbohydrates it contains is higher, so it can keep larger dogs going for a longer period of time.
To protect the immune system, meet the requirements of various life stages, and prevent the formation of free radicals, holistic veterinarians and animal nutritionists select a combination of antioxidants, vitamins, and minerals that have been carefully selected.
As a means of ensuring that this dog food contains ingredients of the highest possible quality, vitamin and mineral supplements are included in it. The Blue Buffalo brand of dog food does not contain any corn, wheat, soy, artificial flavors, or preservatives of any kind. Many people believe that blue dog food is more natural than other dog food brands.

Product Description:
Pedigree believes that providing your adult dog with a holistic diet is critical to providing him with the proper nutrition. Steak is something that dogs enjoy, and this product satisfies their craving for it while also providing them with the antioxidants, vitamins, and minerals that are necessary for them to lead a healthy lifestyle.
This tasty dry food won't cause any digestive issues for your furry friend. This supplement contains a significant amount of omega-6 fatty acids, which is another type of fatty acid that is beneficial for the skin and hair of your dog.
Regarding the quality of this canine diet, there are no complaints. In addition, there are wholesome grains and protein sources that are low in fat, all of which come from products that are sold commercially in the United States. This particular food does not contain any sugar, corn syrup, or artificial sweeteners.
Dogs have the ability to love their human companions without conditions, which in turn motivates people to lead their most fulfilled lives. Pedigree is committed to bringing out the very best in the people and animals it cares for.
Hill's Science Diet Dry Dog Food
Product Description:
You should feed Hill's Science dog food to your small or toy-breed dog since they are still fully developing. This will ensure that they get all of the necessary nutrients. Its ingredients are easy to digest and have been tailored to fit the digestive tract of a small dog.
The kibble is small enough to fit in the jaws of a smaller dog and is packed with high-quality protein to keep muscles lean and omega-6 fatty acids and vitamin E to keep skin and hair healthy. With a unique antioxidant mix in this dog food, your dog's immune response will be strengthened, allowing them to remain healthy for the rest of their lives. The Hill Science Dog food has a lot going on in the new version, more than simply a makeover. Recently, several dog products have had their names, kibble forms, and ingredient combinations changed. Dogs beyond six years old should not be purchased as puppies or adult dogs. A female dog that is carrying a litter or is nursing her young. The Hill's Science Puppy Small Paws diet dog food is the superior choice for the nutritional requirements of pregnant or nursing dogs. All ages and phases of life may enjoy this food. Keep the package away from children and pets to avoid asphyxiation. To help humans and their pets get closer, Hill's Pet Nutrition produces high-quality pet food and vitamins. The production of Hill's pet food requires the expertise of over 220 vets, food researchers, technicians, and Ph.D. nutritionists, all of whom contribute their prior knowledge and experience.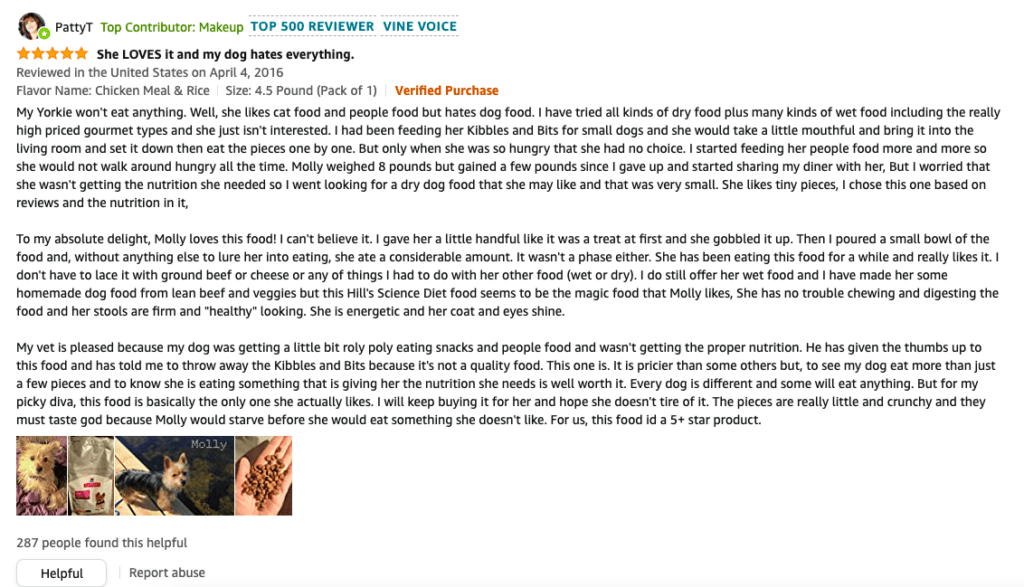 IAMS Minichunks Dry Dog Food
Product Description:
It is best to provide a kibble size that your dog enjoys, but you should keep in mind that the very first ingredient is an actual chicken that was raised on a farm. By giving your dog the most significant protein sources, you can assist in the process of building strong muscles in your dog. Your dog's immune system and digestion will benefit from the addition of this tasty kibble because it contains essential fibers, prebiotics, and antioxidants. These nutrients are supplied by all of the ingredients. IAMS Dog Food does not contain any artificial flavors, preservatives, or fillers; as a result, it is a source of nourishment for dogs that is both comprehensive and nutritionally sound. They have a wide variety of meals that are designed to meet the age-appropriate, size-appropriate, and nutritional requirements of your dog, from puppies to adults to senior dogs and from the smallest breeds to the largest. In addition, they have recipes that promote a healthy body weight and metabolism, which enables them to cater to the specific requirements of your canine companion. It is important to provide your dog with a diet that is not only healthy for them but also something that they look forward to eating to get the most out of them. Our high-end, premium products are made in the United States using the best ingredients that can be sourced from all over the world

Rachael Ray's Nutrish Dry Dog Food
Product Description:
Nutrish is a scrumptious and ultra-premium dog food that is made with a ton of love from Rachael Ray as well as the finest ingredients. When it comes to eating a diet that is both healthy and balanced, beef is one of the most important components. It makes it easier to maintain muscle tone and provides a wide variety of nutrients that are essential for the proper functioning of your dog's organs. Additionally, it provides a source of energy for their bodies. Good examples include carbohydrates like peas and brown rice, which are high in fiber but low in fat and are simple enough for dogs to digest easily. On the other hand, the omega-6 and omega-3 essential fatty acids found in chicken fat might make it easier to keep a dog's skin and coat in good condition. The end product is a mouthwatering meal that every dog in the neighborhood goes absolutely wild for. The Rachael Ray Foundation, which works to help animals that have been mistreated or neglected, will receive additional funds that will be donated to the foundation. Place your order right away to ensure that your pet will receive the appropriate nutrition and that your contribution to making the world a better place will be recognized.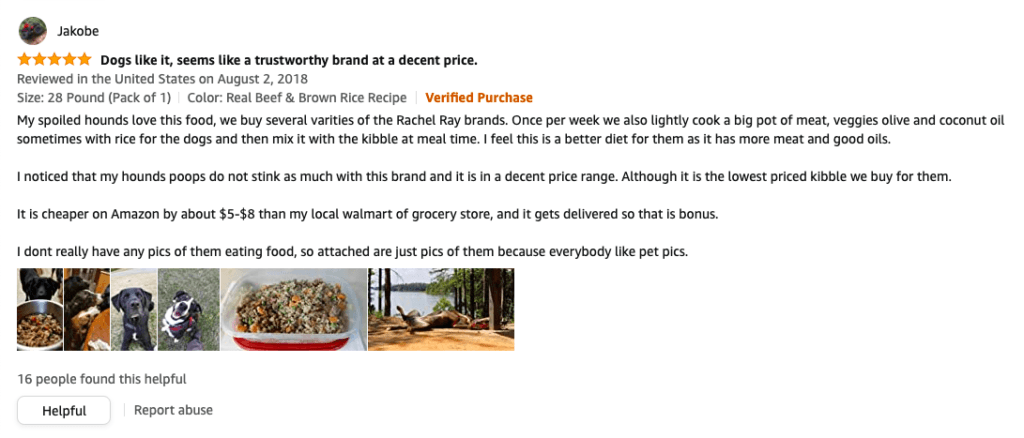 Conclusion
When it comes to the many options for dog food available, Blue Buffalo is a reliable choice that can be used for all sorts of dogs. As a company, this one takes pride in sharing the secret behind how it makes its products, and it offers a variety of formulations that are perfect for dogs of all sizes, ages, and lifestyles.
On the other hand, since the manufacturer of Pedigree's formulas designs their formulas for use by dogs of all sizes and ages, Pedigree comes second in our rankings. The prices of this brand are lower than the prices of other brands.