A training collar can stop undesirable habits in a new dog or stubborn canine family member. A lack of training or socialization results in most dogs developing problematic characteristics and habits. Using a training collar requires more effort and time. However, it is one of the best strategies to curb bad behavior. Additionally, you can have a contented and well-behaved companion by your side through collar training.
Veterinarians and dog owners have different perspectives on dog e-training collars, but most would concur that as long as the collar does not injure your dog, everything is fine. Several trainers use e-collar technology as a standard part of their training regimens.
You should use electronic dog training collars safely and according to instructions if you decide to do so. An e-training collar shouldn't be your primary training method, ideally. Instead, you should use it with other powerful strategies, such as positive reinforcement.
It's vital to remember that misuse of these e-collars might cause your dog harm and suffering. Before utilizing any of these gadgets, we strongly recommend that you speak with your veterinarian or a qualified trainer since, if misused, they can also promote aggression and teach bad habits.
Whether you're beginning the training process with a new best friend or seeking to introduce an older dog to new behavior, we've put together a list of the best training collars for stubborn dogs.
SportDOG Brand TEK Series 2.0 GPS Tracking + E-Collar System
Product Description:
SportDog GPS dog finder and trainer allows you to educate your dog by giving 99 levels of static stimulation, tone, and vibrating choices while also receiving and displaying your location and your dog's GPS collar location. In addition, the handheld device comes with 1:100,000 preloaded topo maps and free lifetime upgrades.
It has HopTek technology that tracks and trains your dog up to 10 miles away without a cell connection. In addition, you can monitor and train up to 21 dogs with additional TEK Series 2.0 GPS + E-Collar Add-A-Dog Collars. The portable gadget will also show each dog's direction, status, the path they followed to get there, and whether or not they are moving or static.
You may view this information or listen to it (if your Bluetooth headset is suitable). SportDog's handheld device and the GPS collar are rechargeable, waterproof, and submersible. You can easily update both devices with the USB cables and desktop program.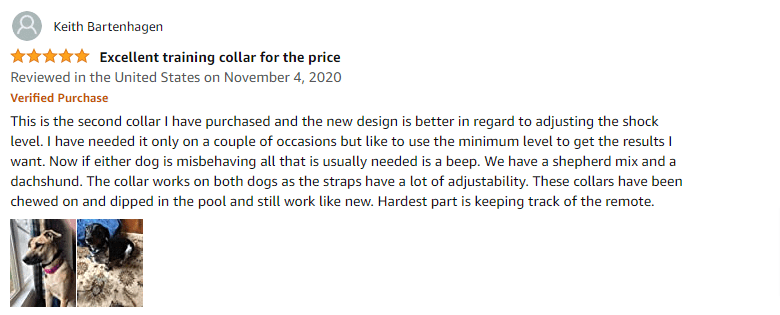 Dogtra 1900S High-Output Remote Dog Training E-Collar
Product Description:
This device is ideal for you if you're seeking a very effective collar that doesn't skimp on quality. With a 34-mile range, the Dogtra 1900S is an excellent option for whatever training program you pick for your dog, no matter how complex or essential. In addition, the ergonomic shape of this collar makes it easy to fit comfortably around your dog's neck.
It has a stimulation control setting displayed over a vivid LCD for easy sight. The screen has more than 127 levels, so you may use the Rheostat Dial to adjust and gradually climb between levels. Due to its incredible durability, you may use it for indoor and outdoor activities.
There are two different sorts of correction abilities for this collar. It also has a high-performance pager (HPP) that uses vibrations to guide your dog throughout training. The IPX9K waterproof certified, robust receiver with the 1900S versatility has passed the International Protection Marking system. The durability of Dogtra products is tested by spraying them with liquid at high pressure from four angles.
Garmin Alpha 100 Bundle TTS 15 Multi-dog Tracking GPS Device
Product Description:
The next product is Gramin Alpha's collar. You can track and train dogs in the field with the Alpha GPS Track and Train System with TT 15 gadget. It combines Tri-Tronics training technology with Garmin GPS/GLONASS tracking. You may train your dog to quit pursuing undesirable games up to 9 miles away.
The Alpha TT bundle comes with a field backpack, a portable, and a TT 15 dog gadget with a collar strap. In addition, it contains 18 continuous and transient stimulation levels, a 3″ glove-friendly touchscreen, preloaded TOPO U.S. 100K mapping, a 1-year BirdsEye Satellite Imagery subscription, and a rechargeable battery.
This device also shows the dog's direction and speed. In addition, you can receive Treed and On Point notifications. You can track up to 20 dogs and train them using additional collars and portable devices. It is compatible with Garmin T 5 dog tracking device for track-only situations. This Gramin device has a battery life of up to 20 hours (Alpha 100).


FunniPets Dog Training Collar with Remote Waterproof Electronic Dog Collar
Product Description:
The FunniPets guiding principle is to have fun with pets and turn them into our closest friends. With this e-collar from FunniPets, you may safely and amicably teach your dog. The remote and built-in LED light on the shock collar make it easier for you to find your dog even in low light. Additionally, this luminous collar can reflect light at night to safeguard your dog's safety, making it ideal for nighttime walks.
It is simple to teach your dog in the park or backyard, and you never have to worry about running too far, thanks to its 2600-foot (875-yard) remote range. In addition, the remote's range is around 350 feet when obstructions are nearby. It can shield your dog from skin damage thanks to the extra conductive silicone used for the contact locations.
In addition, the contact points are detachable, and if you don't require the shock mode, you may screw the shock head off to lessen friction on the dog's neck. With the collar on, your dog is free to play near the water or have a bath. However, please don't submerge the receiver for an extended time, and remember to close the charging port before doing so.
DOGCARE Dog Training Collar for Large Dogs
Product Description:
Dog training collars can help you train your canine friends to behave appropriately. This dog training collar with a remote offers three secure training settings. The DogCare shock training collar with remote, intended for pet owners, dog walkers, and professional trainers, can stop annoying behaviors like barking, chewing, biting, and digging.
DogCare's compact dog shock collar places a priority on canine care. Compared to other devices, these remote-controlled shock collars are for small dogs. This collar is meticulously made with a security keypad that enables you to prevent malfunctions, improving the effectiveness of the training. In addition, this shock training collar with a remote allows you to work with two dogs simultaneously since it regulates up to two collars.
This dog training collar is lighter and smaller than earlier DogCare collars, making it easier to carry. In addition, this dog training shock collar's user-friendly, intuitive design fits elegantly in your palm and makes it simple to use. Its thumb dial and fingertip controls let you swiftly change the static level.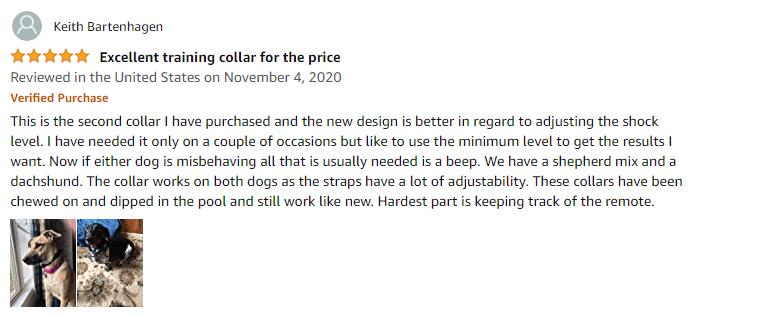 WOLFWILL Waterproof Rechargeable Humane Remote Dog Training Collar
Product Description:
The final brand is WOLFWILL which works tirelessly to provide top-notch goods that promote pets' healthy development and encourage positive behavior. It makes it simple for your dog to stop engaging in undesirable activities, including unending barking, chasing, biting, and digging.
This device has a waterproof receiver, an IPX7 rating, a tough ABS shell, a TPU strap, and a tightly-sealed rubber plug for the charging port. So you don't need to be concerned about entering the sea. However, for certain aggressive dogs or dogs with thick fur, it might not work.
It has a multipurpose wireless remote and LCD backlit display with three operating modes: tone, programmable vibration, and light. The WolfWill training collar also has a 660-yard control range in the 433.92MHz band. It can concurrently use two collar receivers.
This device's transmitter will automatically switch off the power if not in use, efficiently conserving battery life. It has an enormous lithium-ion battery and a splitter charging connection for simultaneously charging the transmitter and receiver. The hanging neck strap and strong belt clip will free up your hands.


Conclusion
Dog training collars typically operate using four methods: vibrations, shocks, beeps, and light. Make sure the collar you select supports the communication method you desire. When selecting a training collar, different breeds may have particular needs. Fur length is a characteristic to bear in mind.
Always utilize the lowest level of stimulation possible, and don't leave your dog wearing the majority of collars for more than 12 hours. Furthermore, examining your dog's neck often is critical to ensure the collar isn't irritating their skin or coat. If it is, you should cease using the collar until the irritation has healed.
Finally, since dog training collars are frequently used outside, you must pick one that can survive continuous exposure to the weather. If feasible, get a water-resistant collar to shield it from splashing in the pool or rain.