A shock collar is an effective dog training equipment that will keep your pet safe and obedient if it barks at every moving item or practices escaping skills. But, with these gadgets, finding a device that will work for you and your animal pet is challenging.
Always make sure your animals are properly socialized and trained. However, because each dog is unique, training methods for one dog may not be successful for another. Although positive reinforcement and reward-based training approaches are what experts advise, there are some situations when you might need to choose a different training strategy.
Most training collars on the market now don't electrically shock your dog. Instead, they offer some form of stimuli, such as vibration, static pulse, or beeping noise intended to get your dog's attention, even when they are far from you. In addition, since many training collars have a long-range, they are accommodating for off-leash training or athletic activities. 
PATPET Dog Shock Collar for Large Dogs
Product Description:
PATPET provides items for training pets, such as pet leashes, prong collars, training collars, bark collars, and sonic bark deterrents. With a remote training collar, you can quickly solve any problem your dog may have, including persistent barking, chewing on priceless items, running away, leaping up, or disobeying your orders. Please do not use a dog shock collar to hurt or injure an animal; instead, it should be a part of a more comprehensive training regimen.
With adjustable static shock levels of 1–16, vibration levels of 1–8, and beep levels, you may select a safe mode that suits your dog's temperament. Training in the home or yard includes advanced anti-jamming technology that enables a robust and reliable signal. In addition, this IPX7 waterproof training collar receiver gives your dogs the most mobility possible while participating in outdoor activities.
With lithium-ion rechargeable batteries, this system offers a two-hour rapid charge. The receiver and the remote have a battery life of up to 66 days. To protect your dog's skin, you can install the metal spring sheets and the conductive silicone prongs simultaneously. The nylon collar may comfortably suit dogs weighing between 15 and 100 lbs. with neck measurements ranging from 7.8 to 27 inches.
Bark Collar for Small, Medium, and Large Dogs
Product Description:
You may adjust this bark collar to either a dog shock bark collar or a no-shock bark collar. In addition, it comes with a vibration beep feature. This is a lightweight bark collar for little dogs (5-15 lbs), but Foraisv also has a bark collar for medium-sized and large dogs with a powerful adjustable vibration and shock function.
This bark collar uses a high-capacity battery that can be charged in only 30 minutes and lasts for around 15 days. It is also waterproof and can be worn outside in all weather. In addition, this bark collar can intelligently identify and detect your dog's distinctive barking pattern while excluding noises from other animals and preventing any erroneous corrections.
Dog bark collars will no longer falsely activate due to other sounds or dogs; instead, this bark collar with a smart sensor and chip will identify the dog barking at a specific frequency and decibel. It also activates more quickly and effectively without any lag time. A smart dog bark collar has a protection mode, temporarily stopping operating for 30 seconds if it triggers seven times in one minute to prevent your pets from receiving excessive punishment. 
Bousnic Dog Shock Collar for Two Dogs
Product Description:
The Bousnic 320B Electric Shock Collar is our second choice. It is a secure and compassionate way to teach your dog appropriate behavior. Also, there are three configurable settings: tone, vibration, and shock. Dual channels are also available for simultaneously training two dogs.
All breeds, sizes, and ages are suitable for the Bousnic, which has an adjustable width that extends from 8 to 26 inches. This trainer also has a 1,000-foot range and can be used indoors and outdoors. The remote's LED screen and ergonomic grip make it simple to operate. Finally, the silicone prongs won't harm the skin or fur of your pet.
A lithium battery is included in this rechargeable Bousnic electronic collar. This shock collar can conveniently be charged using a phone adapter. Given that the collar receiver is entirely waterproof (IPX7), you may engage in outdoor sports with no restrictions.
The Bousnic e-collar leverages the most recent advancements in lithium battery technology to deliver longer-lasting battery life. Furthermore, it charges completely in about two to three hours. Make sure you charge it for 4 hours the first time. The receiver typically lasts 11 to 15 days, while the remote's battery lasts more than a month.
HKZOOI Dog Training Collar
Product Description:
With its three distinct training modes—beep, vibration, and shock—this dog training collar gives you the flexibility to instantly change the intensity of stimulation whenever necessary. Additionally, it features a memory function for settings and a 1+2 channel design so you can train two dogs simultaneously.
Since this dog shock collar receiver includes a non-removable silicone protection prong, it is safe to use and won't irritate your dog's skin when training. There are also anti-accidental shock settings; double-click the shock mode after switching from beep or vibration mode to activate the shock function.
The contact point for this dog shock collar has an updated conductive silicone coating, and the prongs are safe and won't irritate the skin. You needn't fear that the prongs will fall during dog training because you can relocate them. Sometimes shock mode serves as a type of discipline. Please start using this mode at the lowest setting if you wish to. A USB charging cord is included. The receiver and remote may easily be recharged using a power adapter, power bank, or laptop. They typically take three hours to charge completely.
INVIROX Dog Training Collar
Product Description:
This INVIROX shock collar for dogs with 123 training levels, beep (1-8), vibration (1-16), and shock mode is aimed at professional dog trainers. You may adjust the stimulation on the INVIROX dog shock collar to the ideal level for softly conversing with your pet.
You may move the security keypad lock to reduce inadvertent shock and avoid malfunctioning or extra shocking. This medium dog range shock collar allows you to train your dog anywhere, including a park, backyard, beach, woods, or an open field.
This lightweight 49g dog shock collar with a remote has an IP67 waterproof rating. It is possible to use it manually as a bark collar and is suitable for dogs from 8 to 110 pounds. The INVIROX rechargeable dog training collar with remote operates for up to 45 days on a single charge.
NVK Shock Collar for 2 Dogs
Product Description:
Using a digital remote and a lightweight training collar, this shock collar for two dogs helps your dog behave better. It supports training for two to four dogs with only one remote. All dogs may utilize the NVK dog training collar, which has an improved veterinary-made design with three simple significant keys to help protect your dog's sensitive skin.
This professional-level dog trainer for dogs is IPX7 advanced waterproof (the receiver can be submerged for up to 30 minutes without damage). It is possible to recharge both the transmitter and the receiver simultaneously. In addition, this remote-controlled dog training collar enables you to enjoy teaching your dog from a distance of up to 1600 feet. You can train your dog in the garden or park using this flexible collar.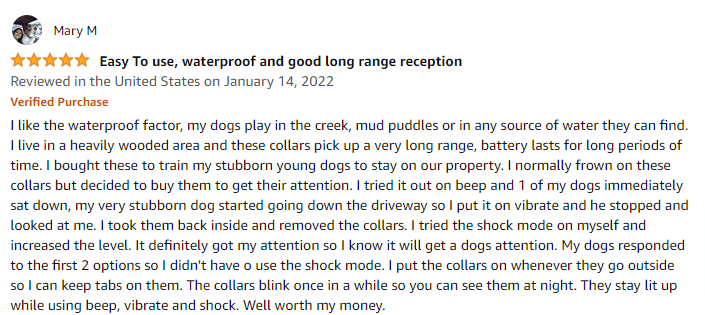 Conclusion
The most appropriate dog bark collar is made to improve the link between you and your pet, in addition to having correction levels and settings that are simple to change and adapt. The correct bark collar may improve your dog's ability to follow instructions, manage anxiety, and, most significantly, be a joyful home or hunting group member. However, when misused, training collars can be painful, useless, and cause more issues than they resolve.
A training collar isn't intended to substitute positive reinforcement training or be used as a form of punishment. The usage of remote training collars is often best suited for certain particular conditions. The most important lesson to learn when utilizing an anti-bark collar is only to use it when required and pair it with positive reinforcement for a successful combo. Remember that when used properly, a no-bark collar is a safe and reliable teaching tool, not a way to penalize your dog.