Did you have a favorite doll or stuffed animal when you were a kid? Dogs aren't all that different from humans and can similarly benefit from carrying a favorite toy. Dog toys help deal with troublesome habits like destructive chewing or obtrusive barking, keeping your dog entertained, and reducing boredom. Additionally, toys help dogs burn off energy, keep them from getting bored, and provide comfort when they're anxious.
It's simple to underestimate the value of toys in a dog's life, but they are essential for your dog's health and personal peace of mind. A dog that is cognitively active and exhausted commits far fewer antics than one that is bored.
Finding the perfect dog toy may be challenging, especially if your dog is picky. For this reason, we've compiled a list of the greatest dog toys, as determined by the experts.
Starmark Treat Dispensing Bob-a-Lot Dog Toy
Product Description:
The main objective of Starmarks is to keep pets pleased in their homes by fostering better ties with their owners. The original Bob-A-Lot is still included in this new, smaller dog toy. A cup of food fits inside its spacious chamber for feedings during meals.
Additionally, the redesigned bottom adjustment gate is simpler to set and can accommodate bigger kibble sizes. Play that involves interaction is essential to your dog's physical and emotional health.
Starmark Interactive Play toys are made so that you may play with your dog simultaneously. This toy is best to keep your dog engaged. This toy can contain kibble and snacks, so work out how to combine them, so they don't get too many goodies at once. You should consider this product if your dog becomes unhealthy and gains weight.
JW Hol-ee Roller Dog Fetch Treat Dispenser Puzzle Ball
Product Description:
Playtime is boosted using JW Hol-ee Roller's Treat Dispensing Dog Ball. It can be readily modified with a massive selection of dog treats and toys. The Hol-ee Roller is rigid yet very elastic. The rubber makes it simple to load with your dogs' favorite goodies.
Its innovative open design lets them securely breathe through it while playing for hours. This stimulating chew toy keeps your dog amused and offers necessary brain stimulation. Your dog's gums won't be damaged by natural rubber while they chew and teethe.
Dogs learn to solve problems and sharpen their minds as they attempt to remove goodies of various sizes and shapes from the Hol-ee Roller, which also works well as a training tool. The Hol-ee Roller is a multipurpose toy for dogs of all ages and breeds and is offered in a broad range of sizes.

Pet Craft Supply Hide and Seek Plush Dog Toys
Product Description:
This brand is very particular in manufacturing dog toys while considering their owners. The Hide and Seek Plush Dog Toys from Pet Craft Supply will keep your dog occupied all day. You can fill the larger toy quickly with three filled, crinkly, and noisy smaller toys before letting your pup dig into it for hours of fun.
It can be challenging to keep dogs curious, active, and occupied. To test your dog's smelling abilities, try having them dig out the smaller toys or try hiding a reward within the giant toy. This toy will work great if your dog is not an aggressive chewer.
Let your pet's best buddy stay occupied all day with this squeaking hide-and-seek puzzle toy. You can have fun with a large plush toy for fetching or three smaller toys that make excellent chew toys throughout their playing time.

Chew King Fetch Balls Extremely Durable - Pack of 3
Product Description:
Dogs are our most dependable pals; therefore, it only makes sense to treat them occasionally like kings and queens. The Chew King dog toys are created using only materials that have been adequately evaluated to be safe for pets, such as natural rubber and sturdy cotton rope.
They are intense, entertaining, and, in the correct size, are made to withstand even the most ferocious play. Additionally, there is a fun toy for every energetic activity your dog engages in during the day, including fetching and playing. As you play with it, you will be able to observe how happy your dog is.
While your dog plays with this toy, you should constantly watch them. Keep out of children's reach. Your dog is protected by a safety air vent, which also prevents joyful tongues from becoming caught. You can choose between many sizes.
Outward Hound Tail Teaser Durable Dog Wand Toy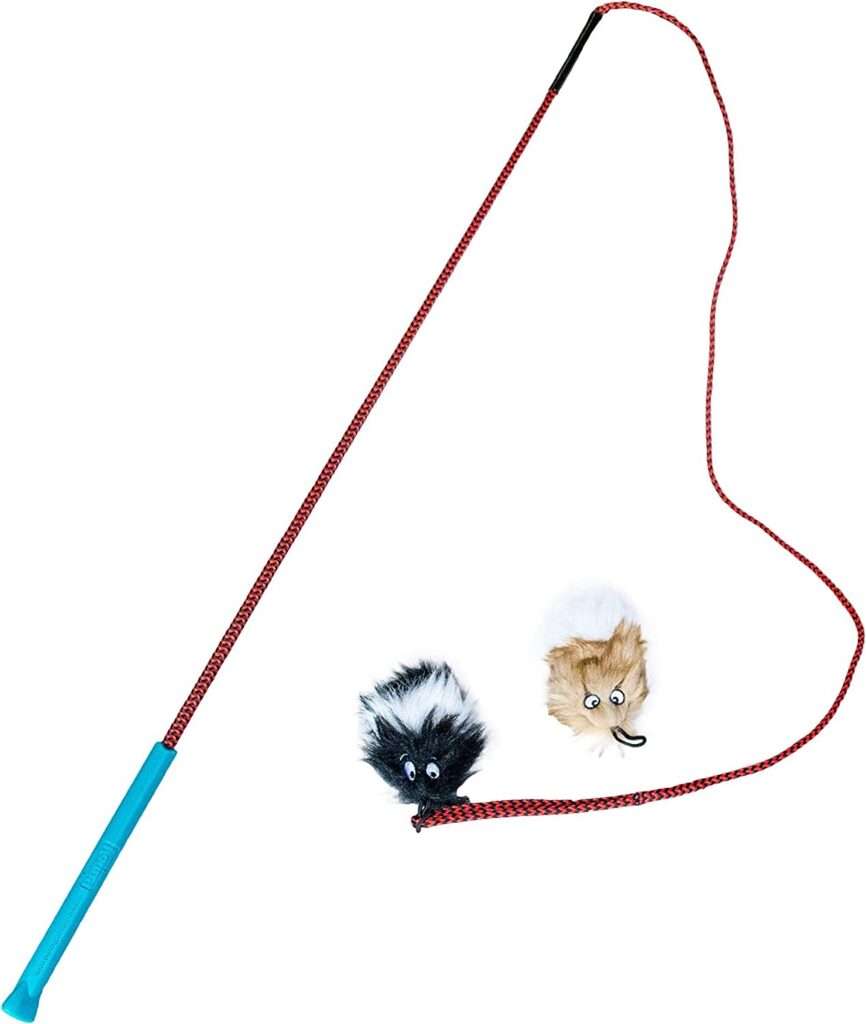 Product Description:
Outward Hound recognizes that your animals are an extension of your family. The Tail Teaser Dog Wand is constructed from solid nylon string flexible enough to last you through several play or training sessions.
You can use this dog toy as a training tool to develop patience and impulse control and give your dog excellent exercise. Dog teaser wands, inspired by the lure coursing dog sport, allow you to practice lure coursing in your garden. This dog toy has two squeaking and rattling plush toys to stimulate your dog's natural hunting instincts and make them thrilled to play. It has a sturdy nylon cord and flexible pull.
It is portable, so you can take it to the park or use it at home to keep your dog happy and physically fit. Combine the teaser wand with the Outward Hound Zip & Zoom Agility Kits for an entire course. It includes two fake fur plush toys that rattle and squeak to simulate the sound of prey and stir up your dog's instinctive hunting behavior.
Chuckit! Ultra Ball Dog Toy
Product Description:
The best fetching ball is the Chuckit! Ultra dog toy ball. It is made to stand out from the competition, float better, bounce higher, and endure longer. The Ultra Ball, composed of natural rubber with a high bounce, stimulates dogs to leap and hop for more engaging retrieve games.
This fetch toy has an extra-thick rubber core, making them sturdy for prolonged usage while remaining as portable and buoyant as canine water toys. Chuckit! Ultra Balls are straightforward to clean with solid dog toys that can withstand drool and filth.
The eye-catching orange and blue pattern attracts dogs in the air and is well visible in thick grass or water. It is available in different sizes as per your dog's requirements. Your furry friend will love this.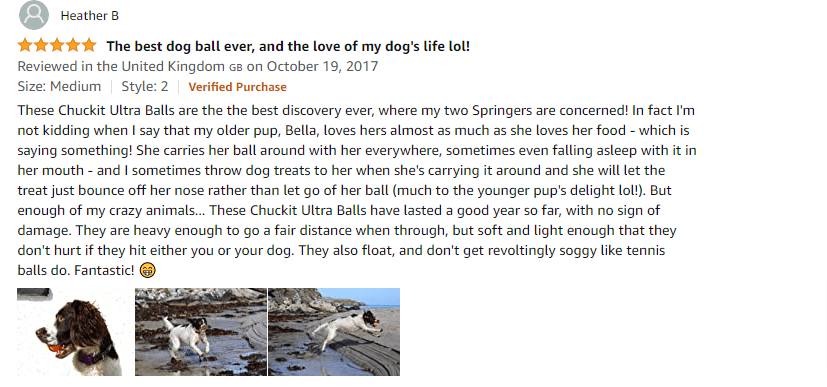 SmartPetLove Snuggle Puppy Heartbeat Stuffed Toy
Product Description:
This company creates dog goods that appeal to your dog's innate instincts in a way that reduces anxiety, encourages play, and offers comfort and tranquility. It is made from materials deemed safe for human use. This Snuggle Puppy dog toy is machine washable and simple to care for.
Your canine buddy can find comfort and relief from anxiety with the Original Snuggle Puppy toy. Whatever the situation, feel confident that the Original Snuggle Puppy is there to help, whether in the playpen, through crate training, a new transition, when traveling, during fireworks, or possibly during a rainstorm.
It has an advanced "Real-Feel" dual mode pulsating heartbeat that can be programmed to beat for eight hours or continuously for twenty-four hours. By lowering your dog's barking, whining, and anxiety during crate and kennel training, this dog toy will also help YOU sleep at night.

Conclusion
All dogs have various personalities and activity levels, so to select the toys that will work best for your dog, you'll need to be aware of their specific requirements. Every toy makes it simple for your dog to play alone. Toy producers offer a wide variety of interactive toys. However, they often fall into one of three fundamental groups.
While some dogs like toys with various textures, others are more sensitive to sounds. If your dog tends to chew, be wary of toys that advertise being particularly tough or resilient. Remember that no toy is indestructible; monitoring your dog is always a good idea.
It is a good idea to have a wide array of toys to provide diversity, a challenge, and a high level of cerebral stimulation for your dog. When determining your dog's preferences, hunting for less expensive toys might be a good idea.