Can you think of a good companion for dogs? According to our observations, a satisfied dog also leads an active lifestyle. Puppies have a lot of excess energy that needs to be expended to have a happy and healthy life. Therefore, you should ensure that your pet has a toy that they can play with to keep them entertained. It's nice to spend a lot of time with your pets, but sometimes it just isn't possible due to things like work, chores, or other obligations. When you can't be there to play tug of war or throw a ball, it's a good idea for dog owners to look into purchasing some high-quality dog toys for their pets to play with when they are absent.
When so many options are available, choosing the favorite dog toys for a dog is difficult. However, dog owners know that some toys are better than others for their pets. Either your pet does not find it interesting to play with, or they will chew or pull on it until it is destroyed. How do you find the best toys for your dog that will keep them occupied for hours?
Your pet will enjoy a long life of happiness and good health if you provide them with this assortment of high-quality dog toys. The article consists of the best products available for dogs, be they expert chewers, fetchers, brainiacs, or puppies who are teething. You will be able to strengthen your relationship with him and keep his mind stimulated and active if you play with him.
KONG - Tires - Durable Rubber Chew Toy and Treat Dispenser for Power Chewers
Product Description:
KONG Tires is a brand of tire chews created to turn the act of chewing into a pleasurable one. Because of its thick outer tread and the sharp bends built into the design, this chew toy can withstand wear and tear while maintaining its effectiveness. You can press the sides to make them double up and bounce, and you can also use them for bouncing. A Satisfaction Guarantee is available from Kong.
Even the most aggressive chewers do not affect the KONG Extreme black rubber toy's durability. Their appeal increases significantly when the Kong tires are stuffed with snacks, peanut butter, or other tasty treats.
This tire's rubber material is the industry's toughest rubber, thanks to its special design that makes it ideal for fetch games. Small, Medium/Large, and Power Chewer toys are appropriate for dogs weighing up to 20 lbs (7 kg), while Medium/Large is the appropriate size for dogs weighing between 15 and 65 lbs. It would be perfect if it were one or even two sizes larger. Extreme Kong is manufactured in the United States of America using supplies sourced globally.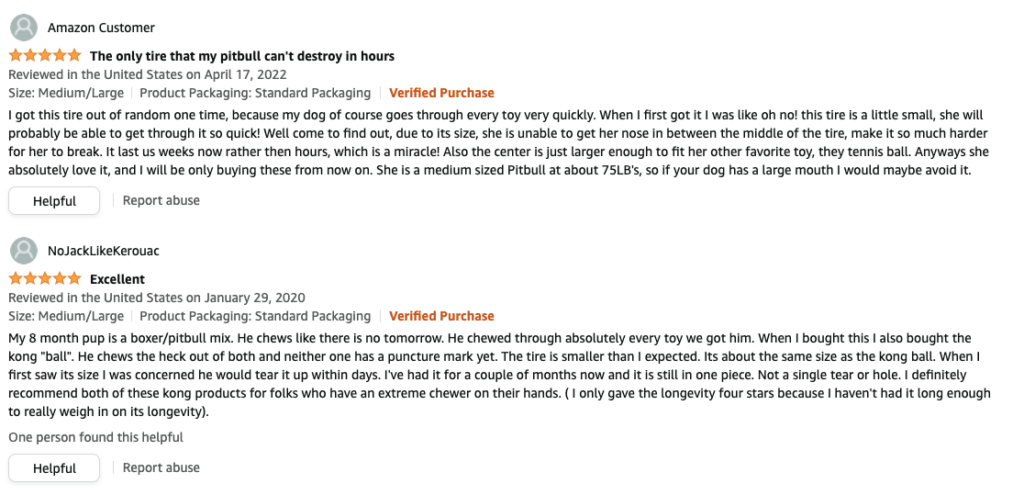 KONG - Extreme Dog Toy - Toughest Natural Rubber, Black - Fun to Chew, Chase, and Fetch
Product Description:
The Kong Extreme is a toy made of black rubber intended to stimulate your dog's instincts while simultaneously satisfying his intellectual curiosity. Dogs benefit from play in all aspects of their development—physically, mentally, emotionally, and behaviorally. This toy's mechanism for distributing rewards helps with chewing, separation anxiety, teething, boredom, weight management, crate training, and barking. It also helps with digging.
You and your pet will have a blast playing fetch and other games together when you have a KONG Extreme. The best present would be a chew toy made of rubber and designed specifically for dogs who have a lot of strength when they chew.
To make the stuffable Extreme KONG more enticing, fill it with kibble, peanut butter, snacks, or Ziggies. It is washable in the dishwasher. Put the KONG in the freezer for four to six hours to give your dog a little extra incentive to play with it. The KONG Extreme line of dog toys is recommended by veterinarians and dog trainers everywhere.
KONG - Classic Dog Toy, Durable Natural Rubber- Fun to Chew, Chase, and Fetch
Product Description:
The red rubber KONG Classic toy rewards dogs' instinct to play and stimulates their minds. Activating the dog's physical, mental, and emotional systems and behavior can improve their health. As a dog's favorite toy, the puzzle toy stimulates healthy play and meets the pet's deep needs, including chewing, separation anxiety, teething, boredom, barking, crate training, and digging.
With the KONG Classic Pet Toy, you will enjoy playing with your pet more thanks to its surprising bounce. If they chew lightly, it is a great way to get the exercise your dog needs. You can add more appeal to the KONG Classic in the form of snacks, peanut butter, and Ziggies. You can even run the KONG Classic through the dishwasher. Before you give your dog the KONG on a challenging basis, you can freeze it for four to six hours. It is by far the favorite dog toy of veterinarians and dog trainers worldwide.
WEST PAW Zogoflex Qwizl Dog Puzzle Treat Toy – Interactive Chew Toy for Dogs – Dispenses Pet Treats – Brightly-Colored Dog Enrichment Toy for Aggressive Chewers, Fetch, Catch, Non-Toxic, Made in the USA
Product Description:
When he plays with this toy puzzle, your dog will be taken aback to discover that it contains a unique reward. If your dog chews, you will be able to keep them occupied for hours with this brightly colored puzzle chew toy. If your dog isn't interested in the pricey dog treats, you can have a lot of fun with him by playing with this mentally challenging puzzle for a long time.
This west paw puzzle dog toy has a curved shape, making it simple for your pet to get a grip on it and maintain its position. Your young puppy or older dog will be interested in the toy because of the scent and the side openings. West Paw products are recyclable, non-toxic, colorful, and safe for use in the dishwasher.
West Paw Zogoflex Tux Treat Dispensing Dog Chew Toy – Interactive Chewing Toys for Dogs – Dog Enrichment Toy– Dog Games for Aggressive Chewers, Fetch, Catch – Holds Kibble, Treats, Made in the USA
Product Description:
While your dog is having a good time gnawing on this West Paw dog toy, he needs to search inside for the hidden treats. Dogs and puppies who enjoy the act of chewing and gnawing will find that brightly colored dog and puppy chew toys are ideal for them.
It is possible to stuff the dog chew toy with kibble or other treats to provide your dog with enjoyable chewing. After the treats have been removed, you and your dog are free to play fetch, toss, and catch games with this floating dog chew toy.
When it comes to keeping your dog's attention, toys that dispense treats can be challenging. These West Paw dogs' chew toys are not only identifiable on the inside and the outside, but they are also non-toxic, recyclable, safe for use in the dishwasher, and made in the United States.
West Paw Zogoflex Jive Ball Dog Chew Toy – Bouncing Toys for Dogs, Fetch, Catch, Chewing, Play – Floatable, Recyclable Balls – Latex-Free, Non-Toxic, Dishwasher Safe Dog Toy, Made in the USA
Product Description:
A tennis ball's durability pales to the West Paw Zogoflex Ball Dog Chew Toy, which boasts a one-of-a-kind design that imparts an excitingly unpredictable bounce. The game of fetch will not present any difficulties either. This floatable ball is light in weight and has a high bounce, making it ideal for dogs of any size to run after, retrieve, and chase it regardless of where they are.
With this West Paw pet ball chew toy, frolicking in the water can be an even more enjoyable experience, whether in the pool, the lake, or the river. Because it comes in XS, S, and L sizes, dogs of varying sizes can enjoy this ball chew toy for retrieval while they work on their retrieving skills. The smallest size used with a regular dog ball thrower is an XS.
To clean dog balls and chew toys, simply place them on the top rack of the dishwasher before running the cycle. You can be certain that you are purchasing a high-quality dog ball toy that is latex-free, FDA-compliant, recycled, and made in the USA, thanks to the Love It Guarantee offered by the manufacturer. In addition, you can rest assured that the toy is made with recycled materials.