People need to shampoo their animals at some point or another. After washing your dog, we advise applying a conditioner to make their fur lustrous and silky. Like your own hair, you should moisturize your pet's hair with a conditioner after washing to make it supple and smooth until its next bath.
Dog owners wonder why the appearance of their pets' coats declines with age; a conditioner can assist with this. Unfortunately, even premium dog shampoos can potentially remove your pet's coat's natural oils. Therefore, choosing the proper shampoo and conditioner for canine hair is crucial. After just a few baths, a dog's fur will dry and fade if you don't condition it.
Dog conditioners are made particularly for the skin and coats of canines. Since human hair conditioner was not made for the pH levels of dogs, you should never use it on pets for safety reasons. A quality dog conditioner won't injure the dog with harsh chemicals but will maintain the coat's lustrousness.
The Stuff Dog Conditioner
Product Description:
All breeds with short or long hair can benefit from The Stuff, a special leave-in coat conditioner. It features a non-toxic, hypoallergenic, and silicon mix that works to ward against smells like feces, grime, and dust. In addition, The Stuff is carefully developed to prevent and get rid of mats and tangles while keeping coats cleaner and softer.
The long-lasting aroma of this top dog conditioner is not overbearing. Following the instructions and using after shampooing but before wiping sweat will yield the best results. It allows the conditioner to cut through mats and tangles while removing the undercoat quickly.
Even for dogs with coarse hair, this conditioner makes coats smooth as promised and lasts longer than other comparable treatments. It also reduces grooming time by cutting through mats and tangles. Silicon is used in the formulation to resist dirt, dust, and urine, keeping coats cleaner for longer. It is excellent for all coat types.


Warren London Hydrating Butter Dog Conditioner
Product Description:
Warren London Hydrating Butter is a very moisturizing leave-in conditioner that keeps your dog's skin and coat velvety smooth without feeling greasy. A unique humectant in the composition is intended to release moisturizing emollients every two hours for all-day hydration. This moisturizer is effective on all varieties of coats and has excellent effects on dandruff-prone dry, flaky skin types. It is made in the USA with pride.
For dogs and their owners who like boutique-style cosmetics, Warren London Guava & Mangosteen Conditioner is the way to go. Warren London Conditioner, made with guava, mangosteen, and butter, rehydrates your dog's skin and coat to make it look and feel its best. It also makes your dog smell amazing.
This unique mixture offers a long-lasting fresh aroma and moisturizes for 24 hours straight. You can choose between two scents, Guava and Mangosteen or Pomegranate and Acai. Also, you may use it on all coat types, whether dry and flaky or oily. This is the only patented recipe that continuously delivers moisturizing emollients.

Earthbath Oatmeal & Aloe Conditioner
Product Description:
This conditioner with colloidal oatmeal and a pH-balanced formula untangles coats while hydrating and calming rough, irritated skin. It will enhance the natural sheen and brilliance of your best friend's coat while leaving it soft and silky. The best components are blended into it, including colloidal oatmeal, organic aloe vera, organic shea butter, and conditioner and detangler made from vegetable sources. It does not include alcohol, dyes, soap, sulfates, phthalates, or parabens.
You probably want to be able to untangle most of the troublesome regions while applying conditioner to your dog's fur. With the help of this conditioner, you may brush their fur, as usual, to get it straight and clear of all mats and knots. You should research and test this conditioner on a tiny area of your dog's skin to ensure that it won't cause an allergic reaction or itchiness. You could find that your dog's skin doesn't respond well to this conditioner.
Earthbath created its goods with your animal friend's wellness in mind. Therefore, your pet's skin and coat should be exposed to as few gentle, non-toxic, and organically effective ingredients as possible. This item is safe for dogs, puppies, cats, and kittens older than six weeks old and is PH-balanced.

Pet Head Furtastic Crème Rinse
Product Description:
This Pet Head dog conditioning rinse is specially created for dogs with long, curly hair, leaving the hair silky, lustrous, and tangle-free. Additionally, it has a blueberry muffin flavor that will make your dog smell scrumptious.
With the Pet Head Furtastic Crème Rinse for Long & Curly Coats, you can give your dog's hair and stride a little more bounce. The use of calendula extract aids in the restoration of softness and vitality while relaxing the skin. In addition, it contains oat protein to nourish and strengthen the hair shaft.
Essentially, it's like giving your deserving pet a day at the spa. Pet Head products are proudly manufactured with 100% safe, dog-friendly materials. Not to mention, the delicious blueberry muffin aroma that still lingers in your dog's hair will tempt you to give him more cuddles.

SynergyLabs Veterinary Formula Solutions Conditioner
Product Description:
Consider using this soothing and nourishing conditioner on your dog if they have dry, scaly, or itchy skin. This fantastic conditioner will leave your dog feeling like it just left the salon since it's enriched with calming colloidal oatmeal, intensely moisturizing jojoba oil, silk proteins, and shea butter.
The powerful moisturizers in this conditioner leave the coat looking and feeling silky smooth. Your canine pet will smell their best thanks to the days-long raspberry tea and pomegranate scent.
This solution is safe to use in conjunction with external flea treatments and is perfect for sensitive skin because it is pH balanced, sulfate-free, and paraben-free. Although it has a little thinner consistency than some other brands, it works well, is reasonably priced, and is excellent for dogs with skin issues.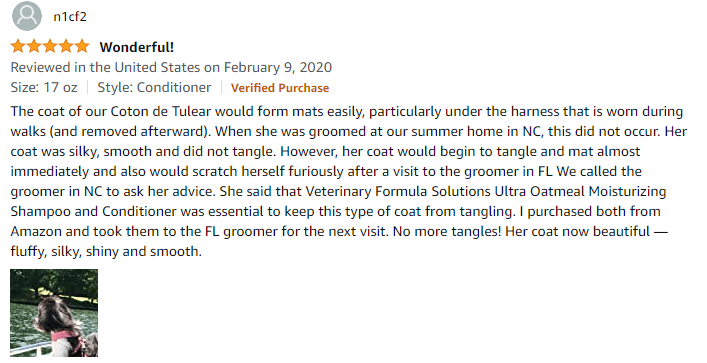 Premium Natural Moisturizing Dog Conditioner
Product Description:
This Lavender Conditioner from Bodhi Dog is a valuable option. It is fantastic for all your pets, not just your dog, who will benefit much from it. It is perfumed with lavender essential oil extract, making it the ideal product for your dog's aromatherapy bath. 
It is an entirely natural and organic option that doesn't include any hazardous colors, detergents, or other ingredients. Additionally, since it is hypoallergenic, you won't need to be concerned about an adverse reaction. For the conditioner, natural herbs and oils are utilized. While they promise to reduce itching, if your dog has a food allergy, this product could not work; therefore, it would be advantageous to identify the underlying issue.
This moisturizing hair conditioner delivers safe, professional quality for dogs, cats, and puppies with normal or sensitive skin. In addition, all varieties of fur can benefit from this conditioning cream rinse, which leaves coats silky smooth and reduces dryness and irritation.
Conditioning your pet is now a pleasant experience for you, thanks to a delightfully fresh fragrance. This pet conditioner leaves your pet smelling fresh for days, thanks to its subtle lavender aroma. In addition, the essential natural extracts make it gentle on your hands and function as aromatherapy for you as you wash your dog. Afterward, your hands will feel supple and smell fantastic.
Conclusion
Everyone knows eating well is essential for maintaining a healthy coat, but it doesn't stop there. Using a hair conditioner is a fantastic way to maintain your dog's skin. The natural oils that keep your dog's hair healthy might be stripped if you use shampoo. However, the coat will become glossy, static-free, and untangled by incorporating a conditioner.
Although our list includes some great options, our favorite is the Warren London Hydrating Butter Conditioner. It smells great and leaves the coat feeling silky. It will keep your dog's itching and dandruff at bay. Since it's a leave-in conditioner, you may use it without risk to keep them hydrated in between baths.
If you're looking for the best value, you can get the Veterinary Formula Moisturizing Conditioner. It is inexpensive and will make your pet's skin and fur velvety and itchy-free. While it isn't a leave-in conditioner like our top pick, it smells incredible, performs wonderfully, and costs half as much.