Training is one of the most acceptable applications for crates; therefore, learning how to crate and train a dog is always worthwhile. In addition, it's a basic form of instruction that makes dogs feel at ease when they're away. Since your pets are more likely to utilize the crate as a little indoor den anytime they need to retreat, crate training also makes it simpler to board a dog in kennels. With practical crate training, you can stop your dog from wandering about your house when you don't want them to.
No matter why you want to buy a dog cage, getting your dog's correct size and temperament is essential. Additionally, it's crucial to teach your dog that being in the kennel isn't a punishment. Never use the cage as a punishment or time-out area when your dog misbehaves. Dog cages are a good, private environment for man's best friend when appropriately utilized.
A dog cage must, first and foremost, provide ample room. You can use a simple tip to ensure that you have the right size. Take a tape measure, and point one end at your dog's tail. Measure up to the tip of the dog's nose. The minimum length of the crate will be this length plus four inches. Next, measure your dog's height while they're sitting. Once more, add four inches to the height you measured, and this will be the crate's minimum height. So, with your needed size in mind, let's look at the top dog crates on the market.
Product Description:
Check out this Diggs Revol Dog Box if you have the cash to go out on a more expensive option. Its intuitive design was created with safety and convenience and is inspired by infant industry quality. The Diggs Revol crate is available in two sizes. The small size fits dogs up to 30 pounds, while the large can accommodate dogs up to 50 pounds. Each size is available in three neutral colors.
You can fold it down in the same amount of time it takes to set up. This cage may appeal more to those who have puppies because it has an easy-access roof hatch and a puppy partition for training.
The Diggs Revol dog cage seems more open because of the diamond-shaped mesh, which avoids injuries. The ergonomic plastic handles make it simple to let your dog in and out, and a top handle and built-in wheels make it simple to move.
This container conveniently folds to almost half its size, allowing you to keep it out of sight when not in use. Remove the detachable bottom tray when it's time to clean.

Carlson Pet Products Metal Dog Crate
Product Description:
The Carson Pet Products Metal Dog Crate is made entirely of steel, making it extremely strong and suitable for dogs. In addition, this compact enclosure has a single door with a robust bolt locking system to ensure your pet's protection.
A detachable and washable black composite pan is included. With no tools needed, it is quick and straightforward to put up. This compact crate folds flat and locks into place for perfect transportation or storage. It is ideal for trips. The Carson Pet Products Metal Dog Crate is perfect for puppies or toy breeds. The dimensions are 24 x 18 x 19 inches.
Casual Home Wooden Medium Pet Crate
Product Description:
This pet crate has a natural appearance, thanks to the wooden design. It also features a lockable gate. Consider this option from Casual Home if your dog isn't a chewer and you believe metal cages are ugly. This crate, made of Hevea wood, may serve as an end table or just fit in with your existing furniture.
There are two sizes available for this crate: small and big. The small is made to fit dogs up to 20 inches long and 14 inches tall, while the large is made to fit dogs up to 38 inches long and 29 inches tall.
Your pet will be very safe and secure thanks to its latching door and the airflow provided by its slatted design. However, you might consider installing a detachable, waterproof lining to make cleanup more accessible because there is no detachable tray for spills or accidents.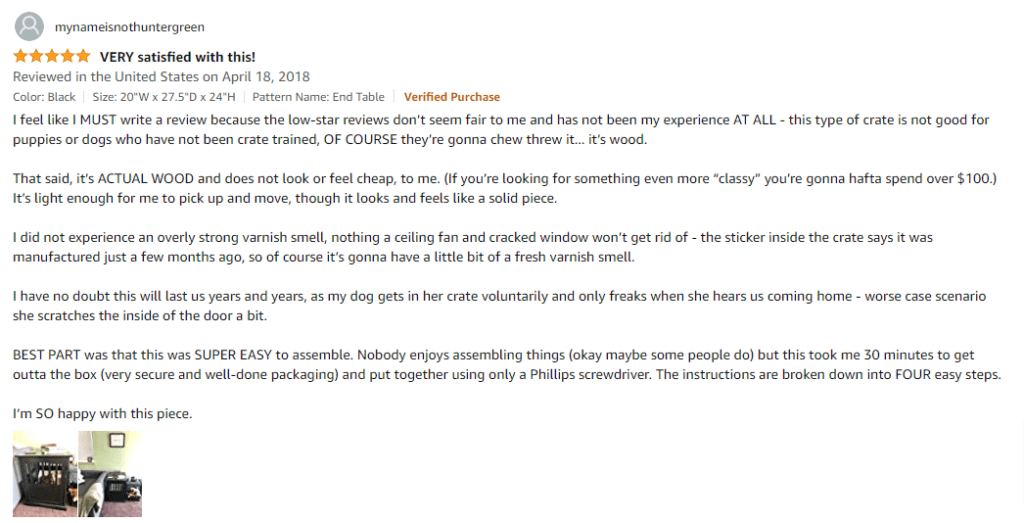 Midwest Double Door Folding Metal Dog Crate
Product Description:
This folding metal dog cage from MidWest Homes for Pets has all the features you'll need to provide your best buddy with a practical, secure, and safe home from puppyhood to maturity. In addition, with the help of the divider panel in this cage, you may change the size of the living space as your puppy develops.
In the case of an accident, the plastic pan's leak-proof construction makes cleanup simple. In addition, a sturdy plastic carrying handle is supplied for easy mobility, and rubber feet on the bottom of the box guard against damage to your home's floors.
Midwest enhanced the safety and security of this cage by adding securing tips on the slide-bolt clamps and the Paw Block, which prevents your dog from meddling with the door lock from the inside.
MidWest Life Stages cages also include innovative rounded side clips that eliminate sharp edges to keep you and your pet safe. In addition, every aluminum dog box from MidWest folds flat for transportation. This 36″ dog crate is appropriate for "intermediate" dog breeds and measures 36L x 23W x 25H inches.
MidWest ensures that its dog crates follow the highest quality control requirements to give your pet a safe and secure place to live.

Petmate Ultra Vari Kennel Dog Travel Crate
Product Description:
Your canine family member will enjoy their cozy house from Petmate while traveling with you. You and your little pal can unwind knowing that Petmate's market-leading plastic kennels are compatible with air and highway travel rules.
The Petmate Ultra Vari Kennel is a safe and cozy option for your dog. Pets benefit from enhanced visibility and fresh air thanks to the 360-degree ventilation apertures. In addition, the elevated interior, tie-down holes, and wire vents can resist the rigors of travel while maintaining pet comfort.
This kennel's sturdy plastic shell, metal fasteners, and covered entrance posts provide heavy-duty protection. The secure latch locks the door, which is also simple to open with one hand. The recyclable plastic material is simple to wash off and clean.
The Petmate Ultra Vari Kennel comes in various sizes to accommodate a variety of dogs, with weight capacities ranging from 25 to 90 pounds. This travel kennel complies with most airline cargo requirements for simple and secure transportation, but pet owners should always double-check with specific airlines.
PetNation Port-A-Crate Indoor and Outdoor Home for Pets
Product Description:
The PetNation Port-A-Crate offers a sturdy cage for your pet, thanks to its distinctive design. Heavy-duty, tight weave mesh fabric is used for the outside, and a steel frame endoskeleton gives it great strength and support.
It includes two doors—a top door and a front door—that can be rolled up and secured with attaching straps. Industrial strength zippers and door locks are additional features that secure your pet.
It's effortless to clean your Petnation Port-A-Crate. Each model is made of a water-resistant material for fast and simple maintenance. Remove any pet waste, clean the material with a stain and odor remover, and let it air dry.

Conclusion
Are you considering taking your dog on a trip? There are a few crate specifications that your dog cage needs to satisfy before you can board an aircraft with your pet. Your dog must be able to turn around, stand, sit, and lie down without feeling cramped in the box. In addition, your pet should have access to airflow. For foreign flights, airlines advise having air openings at least halfway up the four sides of the container on each side.
Even if your dog behaves perfectly in its cage, safety should always come first when choosing a furniture-style dog crate. Dog crate furniture should not have pieces that might prick paws or tails and should be made of solid materials to enclose your dog without tipping or moving. Lastly, make sure to select the appropriate size so your dog can fit comfortably in the crate.