Grooming keeps your pet's coat bright, attractive, and healthy. However, you must brush your pup often to remove dead hair from the skin and give them regular baths. Even dogs with short hair require brushing and other dog accessories. 

Hair length is one aspect you must consider when choosing a pet grooming brush, but it doesn't end there. You must also be aware of proper tool usage and coat maintenance. A benefit for short-haired dogs is that they are often simpler to groom. But if you use the wrong brush, you might do more harm than good. Since the hair is so near the skin, the brush shouldn't irritate it while performing its function.

Even dogs with extremely short hair require maintenance to maintain healthy coats. However, finding the ideal brush to keep them groomed without damaging the skin beneath their fur might be more challenging for dogs with short hair.

Although grooming your dog might seem like a bother, frequent brushing helps to avoid mats and tangles. Regular brushing helps the coat's beneficial oils circulate throughout and removes loose hair before it gets all over your clothes and house.

Once or twice a week, you should carefully comb their fur coat to remove additional fur and lessen shedding. Regular brushing also encourages a healthy, glossy coat of fur. Lastly, don't use the wrong brush and harm your precious baby's skin and hair. The finest brushes for short-haired dogs that reduce shedding and keep your dog's coat tidy are discussed in this article.
Ruff 'N Ruffus Self-Cleaning Slicker Brush
Product Description:
The Ruff' n Ruffus Self-Cleaning Slicker Brush is designed with comfort in mind for both you and your friend. Other brushes feature pointed metal bristles that might irritate your pet's skin. However, this Self-Cleaning Slicker Brush has round-tip bristles to make brushing as soothing and enjoyable as possible.
The Ruff' N Ruffus brush is comfortable to hold during those lengthy grooming sessions with your friend, thanks to the vast, ergonomic rubber handle. Get all of your pets' grooming necessities in one place. A slicker dematting brush and powerful pet nail clippers are included in this kit. You can save money by giving your animal friend thorough grooming at home.
This brush simplifies removing tangles, dander, and loose hair from your pet's fur. When you're finished, press the slicker brush's button to see the bristles retract, and the hair instantly falls off. You can use it on all breeds of dogs, regardless of size.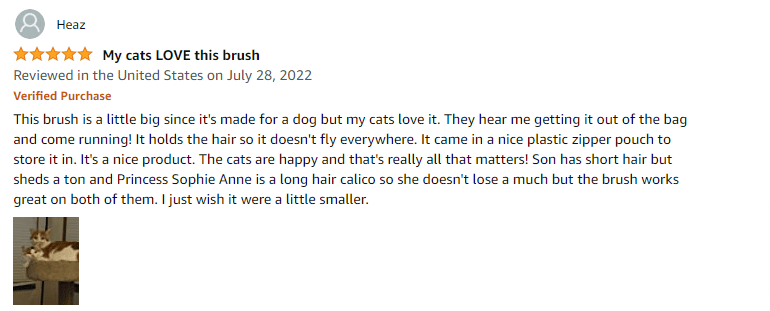 Hertzko Self-Cleaning Slicker Brush for Dogs
Product Description:
Next on the list is Hertzko, which has an excellent and attractive design. This brush has angled bristles that are perfect for combing and cleaning your dog's hair. The exciting feature of this brush is its ergonomic comfort grip handle, making it easy to carry for brushing.
You will like this brush because it is simple to clean. With the touch of a button, you retract the bristles, then remove the accumulated fur. This shedding brush works well and drastically benefits dog owners since it reduces shedding, detangles, and cleans your dog of dirt and debris. Additionally, it maintains the health and lustrousness of your dog's coat. It is a fantastic item for dogs with all kinds of hair.
Herketzo prevents bending and breaking of bristles. These bristles will reach your dog's fur layers without harming them. With this brush, you have a choice between different sizes. You will adore this brush because it was designed for pet owners' comfort.
DakPets Pet Grooming Brush
Product Description:
The third pet grooming brush on our list can cut down on shedding in young and senior dogs by up to 95%. You don't have to be concerned with unattractive hair or fur covering your bedding, house, or automobile anymore.
The DakPets dog grooming brush is so inexpensive that you can keep one in your home and car. This brush has a safe, non-irritating stainless steel blade cover that prolongs the life of the blades. In addition, it includes a sturdy rubber handle that won't slip and a sturdy stem that won't break.
It's an efficient, hygienic approach to removing loose dog undercoats while bringing out a more excellent top coat. Dogs with both single and double coats can use it. Your pet's skin and coat will remain healthy and lustrous after brushing. In addition, regular brushing will help your animal friend's coat and lower the risk of shedding in your home. Both professional pet groomers and veterinarians recommend the DakPets brush.
MIU Color Pet Grooming Brush Deshedding Tool for Dogs
Product Description:
MIU Color never stops working to make it easier for pet owners to take care of their animals regularly while still having fun with pet grooming. The MIU Color pet grooming brush fits dogs with all hair lengths. Veterinarians, pet professionals, and groomers endorse and employ this brush.
With the help of this deshedding brush, you can remove dead hair from the undercoat without harming the top coat and keep your dog's hair looking healthy and beautiful. In addition, this pet comb's 4-inch stainless combs, steel edge, and evenly spaced teeth make it a superb grooming tool for dogs.
This dog hair brush is harmless, non-toxic, and environmentally friendly. With the MIU Color Pet Grooming Brush, shedding is reduced by up to 95%. It's the perfect dog brush and dog comb for de-shedding all sizes of dogs with short, medium, and long hair. You can stop encountering irritating hair all over your house or car thanks to this shedding brush!
BioSilk for Dogs Eco-Friendly Boar Hair Bristle Brush
Product Description:
BioSilk for Dogs Boar Hair Bristle Brush is an excellent method for giving dogs the same high standard and experience as professional groomers. This company offers simple-to-use dog hair brushes and pet grooming products that remove loose hair while maintaining your dog's lustrous, silky coat.
A sustainable way to preserve your pet's inherent beauty is to use the BioSilk for Dogs Eco-Friendly Boar Hair Bristle Brush. This brush is made of plant-based materials that benefit the environment and your dog's general health. In addition, you can use the brush comfortably thanks to its ergonomically formed handle and easy grip.
This brush has the boar hair bristles' spiral flex technology that contours to your dog's body and leaves behind a lovely sheen. The bristles are soft but excellent in removing stray hair from your dog. Finally, you and your dog can now have a pleasant brushing session.
Start from the neck to the legs from the tail. Use caution when using this brush, and avoid the dog's face, eyes, and other delicate body parts. Make sure your dog's skin is not irritated, either.
Conclusion
Slicker brushes, bristle brushes, and deshedding tools are the most popular dog accessories for short-haired dogs. Most coat types respond well to slicker brushes, which detangle using tiny pins. Bristle brushes are for pets with thick coats or when you need assistance removing dirt and enhancing shine. Finally, a de-shedding tool might be helpful if shedding is an issue.

If at all feasible, begin grooming your tiny furry friend as soon as they are a puppy. Brush them when they are 4 or 5 weeks old. As they are so young, you may massage the fur with a cloth and your hand, which will help them get acclimated to brushing later. Your dog will become more used to the brushing process the sooner you begin.