Sleep is essential because puppies who don't get enough sleep may start to exhibit behavioral or health issues. In this respect, dogs and people are similar; insomnia makes us cranky and may result in significant health issues. Some pet owners find that upgrading to a better dog bed is all they need to keep their pets comfortable, content, and well-behaved.
While many of these fantastic cribs are undoubtedly beautiful additions to homes that value style, this guide has also considered the benefits to your dog's health and welfare. These ideal options surpass the items on our typical list of luxurious dog beds.
These ingenious beds are created from premium materials that provide therapeutic advantages for your dog. For example, a luxurious dog bed can aid in controlling body temperature, and memory foam can reduce pain by evenly distributing body weight.
A good illustration of this is luxury orthopedic dog beds. Senior dogs benefit most from them, but they're also great for dogs recovering from an illness, an accident, or surgery, as well as dogs who frequently experience muscular and joint discomfort. In addition, owners frequently purchase a high-quality dog bed to help their dogs slumber.
Sentiments Original Calming Shag Donut Pet Bed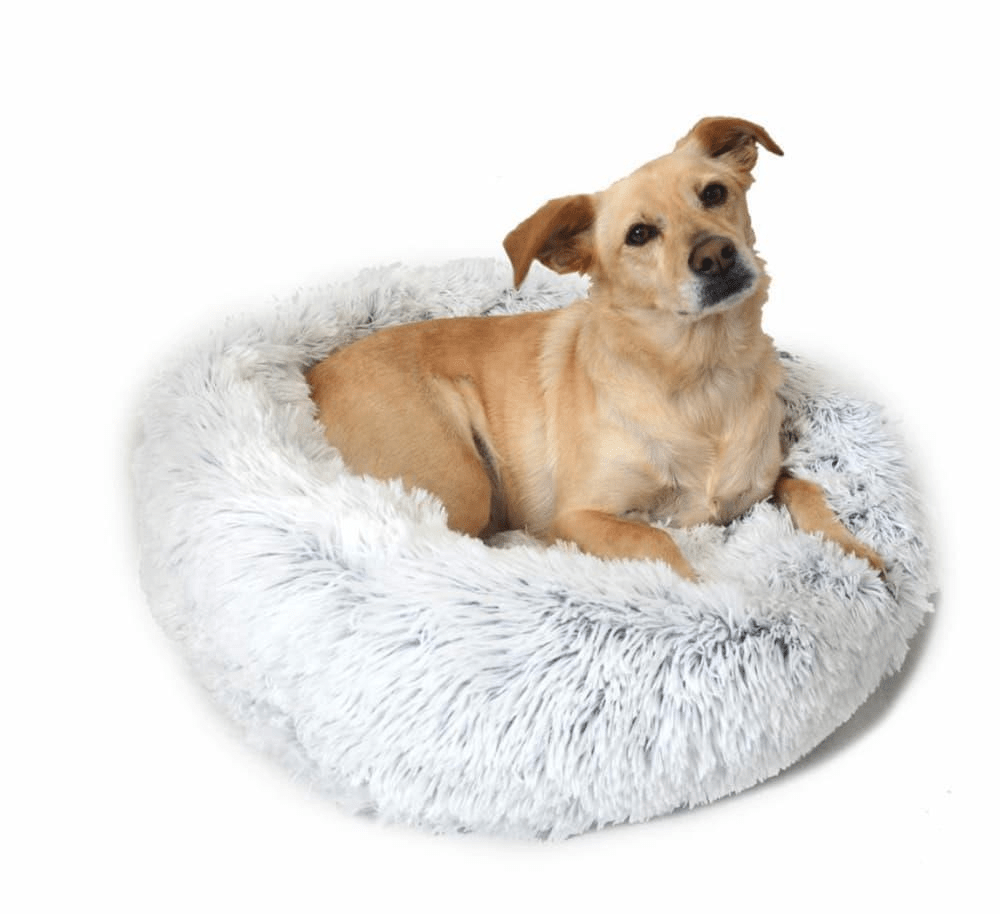 Product Description:
Sentiments creates stylish, practical, high-quality pet goods that are affordable for regular pet owners. They provide a massive selection of cutting-edge cuddler beds that cater to the basic sleeping requirements of small-to-medium dogs.
This premium Donut Cuddler dog bed is perfect for pets who enjoy curling up because of its rounded form. The ultra-soft filling provides joint and muscle pain relief, while the elevated rim gives the user a sense of security and supports their head and neck.
This warm, luxury dog bed is of top-notch quality. It's inspired by a mother's fur coat due to its coziness, flexibility, and vegan faux shag fur finish. Unlike typical pet beds, this bed's specially crafted CoziLOFT fibers maintain their shape for up to three times as long.
This bed combines unparalleled comfort with a modern style. Most pets will sleep just about anyplace, whether cuddling up for the night or enjoying an afternoon nap. However, chilly, hard surfaces make it difficult to get comfortable, reducing sleep quality and exacerbating joint pain, which hurts behavior and health. With a shag donut cuddler, you can easily comfort your best buddy.
Best Friends by Sheri Novelty Pet Hut Dog Bed
Product Description:
This adorable style is quite comfortable! Your pets will sleep longer and more soundly, encouraging better behavior the next day. Additionally, burrowers need this dome design because it offers 360-degree coverage!
This is the ideal pet bed for pets who enjoy burrowing! With a unique shelter all to themselves, pets can enjoy some alone time and seclusion. Their sense of security and warmth can keep their minds at ease, improving their health and well-being.
This luxurious dog bed is made with incredibly soft, micro plush fabric to provide your pet with warm relaxation. This bed will provide your pets with the ideal sleeping position and will ensure they wake up rested, improving their behavior throughout the day.
This bed has a detachable cushion that can be washed and dried in a machine. You can rely on Sheri beds knowing they are pet-safe because they are made with flexible foam and soft micro plush.
Tov Furniture Handmade Button Tufted Pet Bed
Product Description:
The plush design of this upholstered pet sofa brings a dash of flair to any animal lover's home. The button-tufting, nailhead trim, and silky velvet upholstery make this beautiful dog bed fit for royalty.
This luxurious dog sofa is made with a sturdy wood frame and padded velvet upholstery to provide your pooch years of comfort. This sofa has PVC legs that add support to its stability.
This pet bed will surely provide your pet with comfortable lounging thanks to its washable and water-resistant velvet cushion. This dog sofa offers your cherished canine a place to unwind in luxury and style.
It is embellished with nail head trim and coated in padded velvet upholstery. Accidents won't happen because the fabric is water-resistant, and the cushion can be washed. This collection's handmade, premium-quality pieces all have original designs.
PupRug Faux Memory Foam Orthopedic Dog Bed
Product Description:
The PupRug Faux Tiger Print Memory Foam Bed has a unique, patent-pending memory foam pet bed that also functions as a stylish area rug. This modern dog bed resembles an attractive area rug and adds a luxurious touch to your home decor while providing the support and comfort of orthopedic memory foam.
To separate the memory foam base from the outer surface, unzip the zipper linings. However, as the bolster cushion cannot be machine washed, be careful to take it from the cover before washing.
This chic dog bed is available in various distinctive designs. It is packed with high-quality, long-lasting memory foam that reduces joint pain and enhances a pet's health and mobility. This modern and opulent dog bed delivers orthopedic memory foam support and comfort while appearing like a stylish area rug that adds a rich, natural touch to your home decor.
It provides high-quality comfort. Puppies will sleep in the lap of luxury thanks to the ultra-soft faux fur cover and the durable, quality memory foam base. Pets who are old or disabled can also use this bed.
Orvis Memory Foam Dog Bed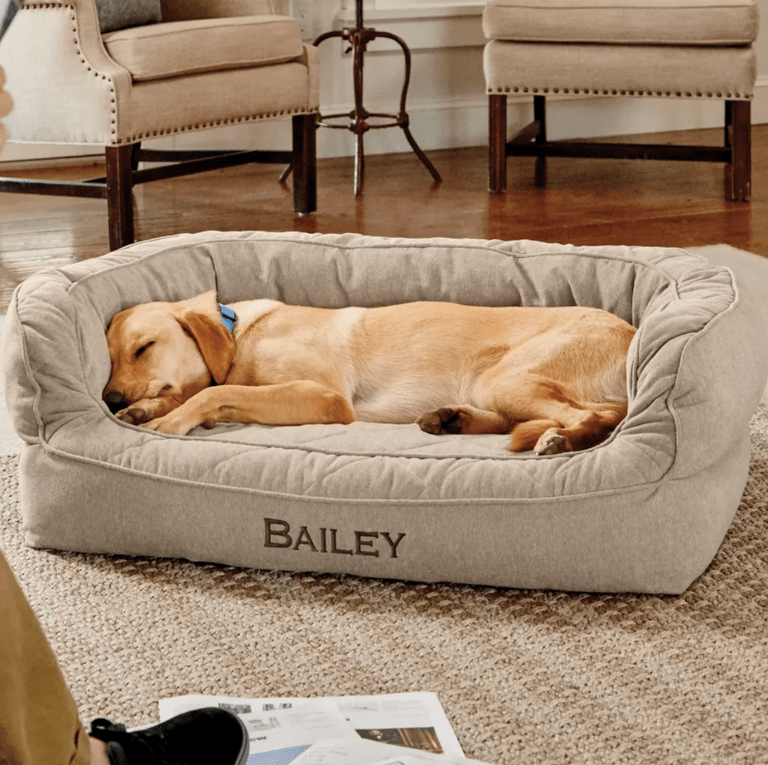 Product Description:
The Orvis Memory Foam Couch Dog Bed helps provide excellent joint and muscular wellness to your dog. This orthopedic memory foam supports joints and muscles for older dogs and larger breeds, eases pressure spots, and enhances circulation.
It has two stacked bolsters that give your dog more room to lean into them and keep standing upright against their weight, giving them a greater sense of security and comfort. The thick, detachable cushion makes a cozy corner for your dog and is made to remain put. In addition, this bed will complement your home's décor well, thanks to the piping along the edges of the bolsters.
Orvis open-cell foam is made to support dogs' weight distribution and body form. This formaldehyde-free, phthalate-free, CertiPUR-US certified low-VOC foam is produced with pet comfort in mind.
If your dog has an accident, a hypoallergenic, water-resistant liner keeps the memory foam clean and dry. It is sturdy and has a quilted polyester microfiber cover made for furniture for added comfort. To wash, unzip the cover, remove the foam and throw the cover in your home washing machine for simple maintenance.
Enchanted Home Pet Brisbane Tufted Dog Bed
Product Description:
This tufted, pebble grain faux-leather sofa is well-designed and simple to clean. It has a furniture-grade structure and nailheads in a brass tone. This bed is ideal for medium-sized pets who want to learn or cuddle when they sleep because of its low profile and roll arms.
This sofa is best for nose-to-tail sleepers who like a safe, curled-up position. If your dog is a curler, seek out a couch with a more rounded or curved back shape, such as one with a Sleep Comfort Contour, which supports their innate desire to feel safe while curled up to sleep.
Numerous Enchanted Home Pet sofas have low-profile and extra-cushioned arms designed to provide the ideal spot for those leaner dogs to rest their heads. To determine which type of sofa has the perfect arm height for your pet to lean into securely, observe how your pet prefers to incline his head.
Conclusion
Some dogs can be picky, but any dog would be lucky to spend the night on one of these stylish luxury dog beds in comfort and luxury. There isn't a luxury dog bed ideal for every dog. Consider your dog's size, preferences, and requirements while choosing the finest beds. Some breeds favor a soft bed with side bolsters.
Senior dogs require specialized beds, especially those with sore joints and muscles. Older dogs can get anatomical assistance from orthopedic beds. These beds allow your dog to sleep comfortably while relieving joint pain.
Luxury dog beds can also produce scents, depending on your bed and the dog. Beds with canvas material, waterproofing, and water resistance are less likely to smell. They come in handy when accidents happen. Bed coverings might retain odors, but they are simple to machine wash.