A crucial piece of safety equipment is a dog life jacket. If swimming or spending time on the water with your canine companion is part of your summertime plans, you'll want to be sure they are appropriately protected. However, dogs' varying levels of comfort in the water, unique body types, and varied play and swimming techniques make it difficult to determine which model is ideal for your puppy. Although most dogs are strong swimmers, even the best paddlers can only swim for brief periods. In the case of an emergency at sea, your dog wouldn't have a better chance of swimming to safety than you would. Similarly, many breeds are naturally adept swimmers, like splashing around in the water, whether at the local lake or the beach. However, that doesn't negate the need for safety measures while using the water. The life jacket size should be your top priority while looking for one for your dog. You should pick a life jacket that will increase your visibility by selecting one in a vivid color and maybe one with reflective stripes. Another crucial component is a handle, which can assist you in retrieving your dog in an emergency.
Outward Hound Granby Splash Orange Dog Life Jacket
Product Description:
Dogs can be of any size or form. A dog life jacket is suitable for your dog, no matter how short and thick or how long and lean they are. With sizes XS to XL and adjustable straps, selecting a size that supports them according to their circumference measurement is simple. We advise sizing up if the dog's girth size is at the higher end of this range. Bright colors and luminous elements are used in the Outward Hound Granby Splash dog life jacket design to improve swimming visibility. No matter how skilled a swimmer they are, your dog will benefit from a front neck float to keep their head above water. The jacket is made of ripstop material, maximizing buoyancy in the water while allowing unrestricted movement on dry land. While getting their float on, the neoprene belly band supports their chest and belly while the adjustable straps and buckles help achieve a snug fit. Your dog can be easily lifted out of the water and restrained with the help of a top grab handle, which also makes it simple to perform a rescue if they fall into difficulties.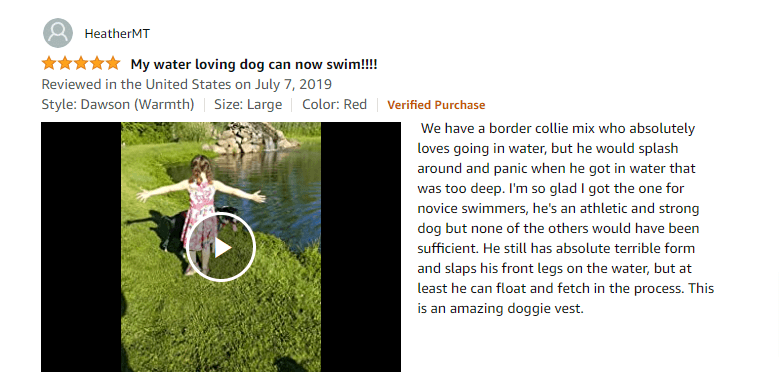 Vivaglory Skin-Friendly Dog Life Vest
Product Description:
There are five sizes of this jacket, ranging from extra-small to extra-large. In addition, eight colorful and vibrant hues, ranging from pink to blue to yellow, are available for the jacket. To keep the dog safe and buoyant without limiting motion, Vivaglory builds its jacket with additional padding and a fastening mechanism around the dog's belly and neck. A sturdy grab handle, a D-ring for a leash attachment, adjustable straps, and quick-release buckles are other features of this dog life jacket. In addition, this dog life jacket is made of high-quality neoprene and has additional flotation layers to provide great buoyancy in the water without limiting your dog's movement. This canine life vest's neoprene material makes it more body-fitting for optimal comfort and less bulky-looking than prior models; the delicate stitching procedure and thicker material promise long-term use. In addition, bright hues and distinctive reflecting details help your dog seem stylish and increase its visibility in the water, keeping it safe. You'll want to be sure to measure your dog so that you get the right size, as is the case with most dog life jackets. The fastening mechanism around the belly keeps the flotation vest firmly on your dog. The quick-release buckles and movable straps around the neck and belly perfectly fit your dog.

Kuoser Dog Life Jacket with Reflective Stripes
Product Description:
This pet swimming gear comes in 6 sizes and is suitable for almost all breeds of canines. Before buying any vests for your dog, please measure them twice and carefully review the size chart. It features a firm fabric and excellent flotation. The high-density pearl cotton foam and ripstop Oxford & Nylon fabric used in this professional ripstop life jacket provide optimal float in the water. Additionally, the dog safety vest provides a comfortable range of motion and does not impede walking on land. The top of the Kuoser puppy life jacket has a grab handle that makes it simple to rescue the animal when it is in trouble. If you wish to take your dog for a walk, installing a dog leash on it is easy, thanks to its strong D-ring. This collar also contains adjustable quick-release buckles around the neck and chest. The handle and straps' enhanced stitching also ensures the dogs' security. It also has straps that you may adjust for a better fit. With this vest, a comfortable neck opening lessens the dog's neck friction. Kuoser uses the most robust reflective band possible so that you can find your dog right away. Your dogs will be the center of attention whether swimming, strolling, or engaging in any water sport when wearing a Kuoser dog life vest.

Paws Aboard Dog Life Jacket
Product Description:
You must consider various factors while choosing a life jacket for tiny dogs in addition to size. For example, the materials used are equally crucial since you don't want it to wind up being too heavy for your adorable little pal. While we suggest a bright color for visibility, the unique fabric selections and the flexible fit are this life jacket's two most delicate features. In addition, it has extra padding at the front to support the head, different cloth below the belly straps for comfort, and a leash clip. This flotation device is constructed of a neoprene fabric that dries quickly, breathes well, and is flexible. Additionally, it includes vented velcro closures and adjustable straps to provide a secure fit. It also has an innovative breathable mesh underbelly to minimize heat exhaustion and allow adequate water drainage. In addition, there is a top rescue handle that allows you to pull the dog out of the water. Thanks to its vivid color and bright side stripes, you can easily find your dog with this handle. Finally, the Paws Aboard dog life jacket fastens beneath your dog's belly, allowing for a tailored fit without the discomfort of overlapping foam parts.

Queenmore Dog Life Jacket
Product Description:
This dog life jacket is made of premium oxford fabric and polyethylene foam, and its underbelly features a cutting-edge, breathable mesh lining for appropriate washing and quick drying. It provides superb comfort and warmth. It has a heavy-duty yet more comfortable magic sticker attaching mechanism around the belly and neck to stay firmly connected and ensure the size fits precisely for the dog's chest, belly, and neck. It also has adjustable nylon straps and quick-release buckles. It has a sturdy, low-profile handle on top that is simple to hold. A sturdy D-ring hook for a leash is conveniently located on the rear to manage your dog's escape attempts. When your cherished dogs swim beneath the water, visibility will be improved by the reflective accents and bright safety colors. In addition, the durable float cushion might let your dog swim without feeling overly exhausted. Dogs can use the Queenmore Pet Life Jacket as a flotation device for all types of water sports. In addition, your dog will have exceptional buoyancy and security thanks to the neck, belly, and back float. These dog life vests can keep dogs afloat even in turbulent currents. In addition, you can readily notice your pets because of the contrasting color design.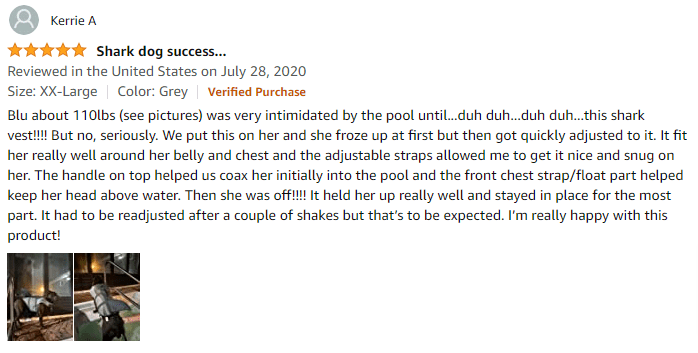 Conclusion
Finding the proper size for your dog is the most crucial aspect to consider with a canine life jacket. Your dog could be able to save its own life with the right life jacket. In addition to knowing your dog's weight and chest size, you must measure their body length and neck diameter for various coats.
A dog's life jacket is an essential component of any outdoor trip. Any dog can become fatigued or be carried away in a river and wind up in a life-threatening situation, regardless of whether they are a natural swimmer or not.
Life jackets are required for any outdoor water vacation, even if you don't intend to spend much time swimming. A life jacket gives you more time to save your dog before they get into serious trouble. Dogs may quickly go into a river, lake, or ocean and lose control of the situation.
Since it's so simple to modify, the Paws Aboard Life Jacket is our choice for the best dog life jacket, enabling you to obtain the ideal fit for your pup. Additionally, it contains reflective piping, which makes it simple to see in the evening.