Dogs are just as susceptible to overheating as humans are, even though many people are unaware of this. If they don't get relief from the sweltering sun, elderly dogs, pups, and animals with pre-existing problems may be more likely to develop catastrophic illnesses.
You can use cooling mats and pads to maintain your pet's comfort. Dog cooling mats are made to keep animals calm and comfortable on hot days. While some are produced with a non-toxic gel that instantly cools, others must be chilled.
Dog cooling mats come in various sizes; some even have cooling gel built into the mattresses. These cooling surfaces are advised for dogs of all ages, sizes, and coat lengths to prevent overheating.
Cooling pads are helpful to keep on hand in hot weather, especially if your AC or electricity goes out. In addition to using cooling mats, you should ensure your dogs have continual access to cool indoor spaces and freshwater. Always check for indications of heatstroke in your dog; if you do, call your veterinarian immediately.
Dogs don't sweat much and go around with a fur coat, making it challenging to keep comfortable when the temperature soars. Cooling mats for your dog are available in both high-tech and low-cost models. However, due to its propensity to sell out during the warmest summer months, it is recommended to get one in advance.
Product Description:
The Arf Pets Self-Cooling Dog Mat checks all the right boxes for you and your pet. The cushioned dog pad, which can accommodate up to 80 pounds, is loaded with gel beads that light up as soon as they feel pressure; batteries, electricity, or a freezer are not required. Put another way, your dog will begin to cool off as soon as they lie down, and you won't even have to move.
Even in the warmest, most humid weather, all of your pets may stay healthy and happy with the help of this solid-gel cooling pad by Arf Pets. The revolutionary cool gel inside the secure, durable nylon cushion will calm and soothe your dogs for up to three hours straight.
It is a genuine minimal maintenance alternative for the house, the kennel, the yard, the automobile, and more since it is a self-charging pad that requires no water, refrigeration, batteries, or energy. This cooling pad will efficiently absorb heat and control body temperature for up to three hours. It instantly recharges after 3 hours of use in approximately 15 to 20 minutes.
This cooling pad is a fantastic solution for ill older dogs. Also, it soothes and comforts a pet recovering from surgery or afflicted with discomfort, edema, tension, skin issues, Cushing's disease, and other ailments. Both indoor and outdoor use are perfect for it.

Dogbed4less Premium Cool Dog pad
Product Description:
Medium and large breed dogs fare well on the Dogbed4less headrest pillow bed. The bed comes with a solid 100% cooling memory foam cushion with an overall 8″ thick headrest on the side, one waterproof interior zipped cover, and one external zippered denim cover in navy blue.
Due to the increased cost, labor, and weight, Dogbed4less pet bed items are seldom available elsewhere. These goods are created with premium durable fabric and top-rated gel memory foam to guarantee the utmost comfort and orthopedic support.
It includes a waterproof taffeta fabric interior cover and a sturdy denim fabric exterior cover made entirely of cotton. Additional stitching and a hidden zippered eyelid design provide a longer-lasting quality that is also simple to clean.
Orthopedic memory foam of the highest grade is three times heavier and five times denser than standard foam or polyfill used in pet beds. Due to the increased material cost & shipping weight, memory foam is rarely available elsewhere yet offers many years of warm comfort in easing the discomfort of arthritis, joint, and hip dysplasia.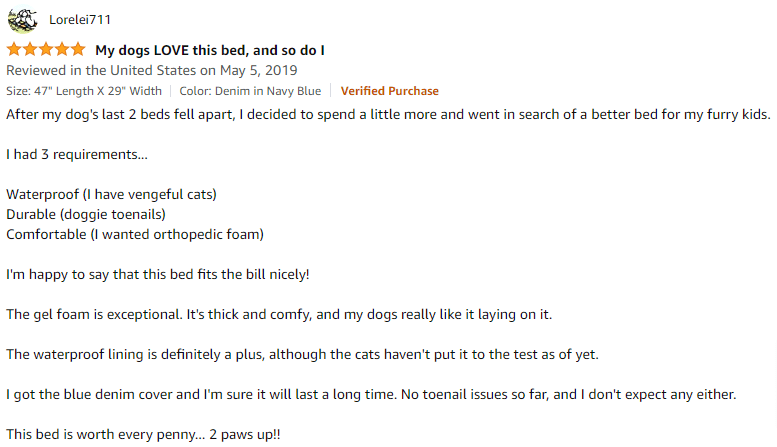 CoolerDog Hydro Cooling Mat
Product Description:
The Hydro Cooling Mat uses a triple layer cooling design that consists of a 1/2″ thick insulating foam insert, a FlexiFreeze Ice Sheet, and a waterbed cushion. Together, they provide a cooling treatment for your dog that is ten times more powerful than gel pads and lasts very long.
This product has no dangerous chemicals or gels and is powered by pure water. The Hydro Cooling Mat is robust and portable and travels with you. You may use it outside in vehicles, SUVs, RVs, or indoors to provide your dog with a cool and comfortable hideaway. In addition, the Hydro Cooling Mat is machine washable because dogs will be dogs.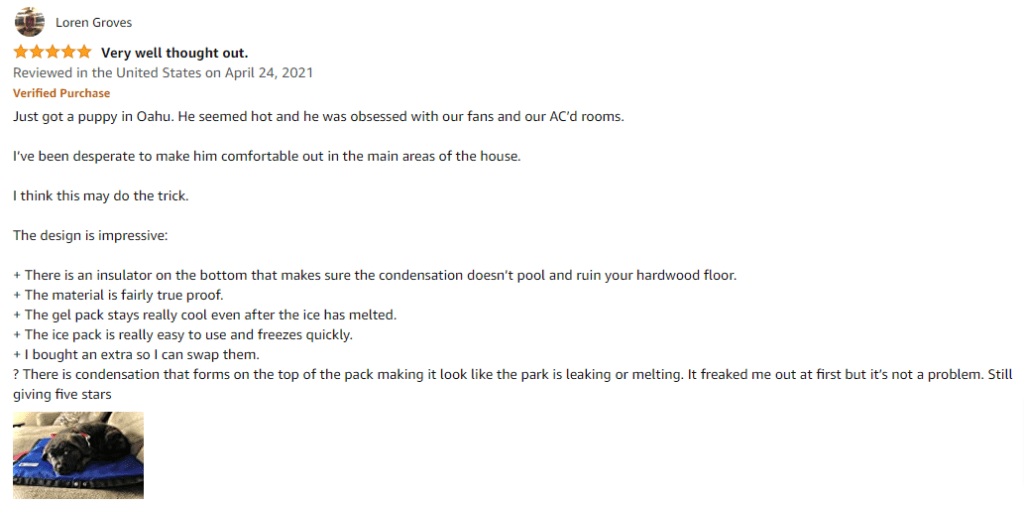 Product Description:
The comfiest cooling dog bed available right now is from K&H. The Orthopedic Coolin' Comfort Cooling Dog Bed does not require power to function. It is attractively constructed to give dogs an excellent place to rest. You may add water once through the simple fill cap while the air valve lets you change the comfort level.
There are no harmful gels in it. This orthopedic cooling dog bed helps with hip dysplasia, calloused elbows, arthritis, skin issues, and medical rehabilitation.
Any dog owner wishing to provide their pet with a cozy, dry, cool place to relax should consider the K&H Coolin' Comfort Cooling Dog Bed. Both indoor and outdoor use is advised. K&H only uses materials of the highest caliber. In addition, each K&H electrical product is safety-approved, assuring you that your pet and your house are safe when using them.


Furhaven Pet Cooling Foam Mattress
Product Description:
Memory foam pet beds with cooling gel tops from Furhaven give your pet a nice, cozy place to nap all day. An orthopedic foam core is sandwiched between layers of memory foam that have been filled with gel. For hot summer days, these dog beds are ideal. The dog bed cover has a zipper for simple removal and washing.
It is a fashionable, long-lasting bed cover made of coated poly-canvas that is water-resistant—the best option for relaxing on a patio. FurHaven has undergone extensive testing to guarantee that the foam satisfies its content, emissions, and durability requirements. In addition, the cooling gel foam provides a refreshing sleeping surface that helps regulate temperature and relieves arthritis and sore

The Green Pet Shop Dog Cooling Mat
Product Description:
Your dogs and cats will feel more comfortable thanks to the pressure-activated cooling pet mat from Green Pet Shop. It is the ideal answer if your pet has trouble staying cool in the summer heat.
This self-cooling cushion for dogs functions without needing water, power, or refrigeration. After 15 to 20 minutes of inactivity, the proprietary gel mix automatically recharges. This cool dog pad is required if your home lacks air conditioning.
Place this pet cooling pad in the area of the house where your pet prefers to unwind. The moment they lie on the pad, it starts to function. The cooling sensation is cool to the touch and provides immediate comfort. It's perfect for elderly animals or dogs with health issues.
This couch has several purposes. Use it on the floor, a sofa, or whatever else you choose. The cooling pads are portable, easily foldable, and lightweight.
The cooling pad is actuated by weight or pressure. The cooling effect begins when your pet lies down and can persist for four hours. After a brief time of inactivity, the pad automatically recharges. Your pad can last longer if you supercool it by storing it in the refrigerator.
Conclusion
Try to keep your dog as cool and steady as possible while giving them tiny but frequent gulps of water if you suspect overheating or severe dehydration. Use a cold, moist towel to wipe them off as well. Most critical, though, is to take them to a veterinarian as soon as possible. Call them ahead so they can be prepared to help you. Overheating can lead to heat stroke, exhaustion, and even death if left untreated.
Large and long-haired breeds could be less active in the summer, while brachycephalic breeds (such as Boston terriers, pugs, and English and French bulldogs) might struggle to breathe in the heat. Dog beds with cooling features are a terrific way to keep our canine pals comfortable. Give your pet plenty of shade and water when they are outside. Bring your dog inside if they often spend a lot of time outdoors.
To get the most out of your cooling mat, consider these options before considering many other characteristics like color, portability, and cleaning simplicity. Thanks to advancements in science and technology, you now have a wide range of alternatives for keeping your dog cool. Also, avoid hazardous chemicals while hunting for a cooling mat since they may unintentionally hurt your dog.