A friendly dog harness can make a world of difference during training or ordinary day-to-day activities. Whether you have a new puppy or need a healthier way to walk your pet, a dog harness will come in handy. Various sizes, colors, and designs of harnesses are available to meet every requirement and budget. Choose a comfort harness if you want one of the plushest and best-padded alternatives available.
A harness will make your daily walk less a struggle for control and more a soothing experience, whether you're searching for a soft vest, back clip, or a simple training harness. Collars are fantastic for ID tags and brief out-and-back toilet trips, but they aren't necessarily the most delicate dog equipment for a simple stroll. 
Collars also do nothing to control boisterous dogs and have the potential to put a strain on the dog's neck. Although humans might not understand why that far patch of grass is so alluring, a dog might catch a smell of something compelling enough to tug against the leash until they choke. Instead, use the best dog harness to save your dog from hurting themselves. These provide more regulated and pleasant walking by uniformly distributing pressure across a broad area.
Icefang Tactical Dog Harness
Product Description:
Tactical harnesses are made for rocky terrain and to safeguard your dog. They have the adaptability to use the MOLLE system, which is widely used in the military. It enables you to carry their favorite toy or swiftly transform these harnesses into backpacks. You may choose the Icefang in a two or four-clip form. The Icefang includes two Metal Buckles based on a clip that has been Proof-Load Tested for up to 1000 lbs.
You may train your dog to walk beside you by connecting the leash to a front clip that prevents pulling by redirecting the dog's forward motion and lifting the dog's leg off the ground. When walking in a crowd, the sturdy handle is large enough to quickly grab the harness and lift your dog when getting in and out of the car.
This front D-ring has to be among the strongest in the market. This is so because the company realizes that the harness is only as strong and reliable as its weakest point. This is even more significant if you have a large dog that might not be everyone's greatest friend.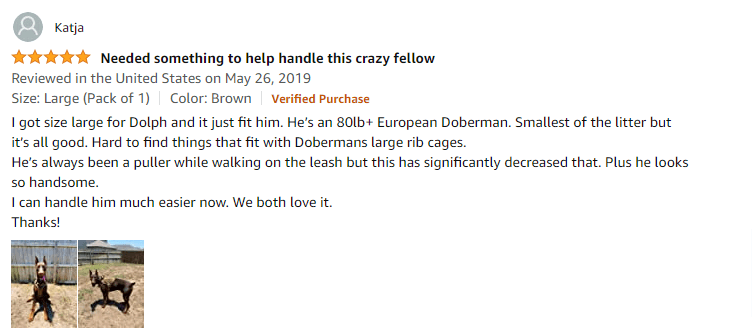 Product Description:
The Rabbitgoo harness is positioned for success thanks to its over-the-head design, similar to the Ruffwear front line. It has two buckles that fasten your dog's sides and four sliding glides for girth and neck adjustment.
There is an attachment on the back, a handle on the rear, and a front chest attachment point even though it is located in the middle of the rear piece and is farther forward than other connection points.
These straps significantly increase your dog's visibility when it's dark outside. 3 M makes the reflective thread, and it does light up nicely. It works incredibly well for training dogs to walk loose leashes since it has a front attachment point. It truly becomes beneficial for learning when combined with a double-ended leash.
The design has been given enough careful thought, so there is no need for snagging, and everything is snug against the body with no slack straps bouncing around. It does have 14 colors available, which is quite a feat.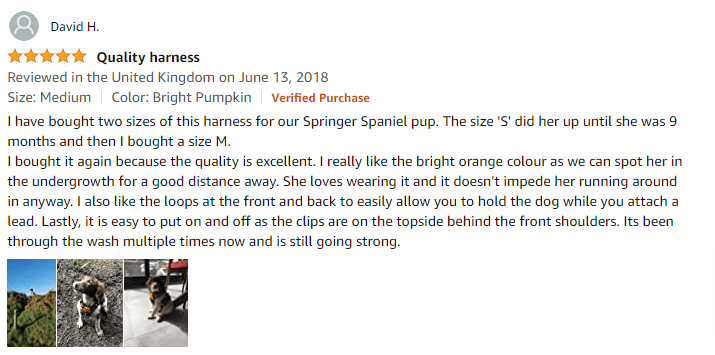 Service Dog Vest with Hook
Product Description:
Being an Industrial Puppy service, they created the dog vest with practicality and quality. It was made for security, toughness, and pleasant functioning to make life simpler for you and your dog.
You can avoid being distracted by dog-loving folks and feel at peace in public. Everyone will immediately identify your trainee's working status when they see the Industrial Puppy Service Pup Vest, giving you and your dog the room you deserve.
Service Dog Vests are designed to be as comfortable and safe as possible for you and your dog. Each vest has detachable patches to indicate different events, a comfy mesh inside, double-stitched nylon for durability, and an attached handle and "D" ring to pair with any leash. You can now have everything you need in just one vest. 
AMTOR Dog Harness with Leash
Product Description:
Two D-rings, easy linkages to traction rope hooks, challenging to swing, and features that prevent suffocation and pulling are all part of the no-pull dog harness and leash set by AMTOR. Dogs' necks are less likely to be tugged by the padded design. Your pet is shielded by three layers of protection thanks to the AMTOR small dog harness combination with Magic Tape, buckle, and double D-rings. The 360° highly reflective stripes offer superb nighttime visibility.
This dog harness comprises high-density, soft, and comfy soft mesh fabric that can withstand gnawing and tearing. It supports the extra-small, small, medium, significant, and cat sizes. This dog harness comes with a matching-colored traction rope that has a soft cotton cushion attached to it to prevent hand injuries from severe tension. It is practical, attractive, and cozy.
This little dog harness has a step-in design. The no-pull design is simple to put on or take off in a few simple steps. First, insert your dog's front feet into the opening, secure the hook and loop, snap the clasp, and you're done!

Auroth Tactical Dog Harness
Product Description:
This item is easy to put on and take off, thanks to its two quick-release buckles. In addition, four completely adjustable straps—2 chests and two shoulders—enable a secure fit and unrestricted movement.
This robust vest comprises 900D nylon with strong stitching for further durability and is appropriate for usage in all sectors. The two rings can support a lot of pulling power, assuring your dog's safety during work, hunting, and other activities.
Every pressure load point is adequately cushioned to protect your dog's skin, and the breathing air mesh keeps your dog at ease. In addition, your dog can carry items while being trained if two 1″ strips of Molle are sewn on each side. Finally, it has various applications for personal service, legal purposes, hunting, or outdoor leisure.
Joytale Step-in Dog Harness
Product Description:
Before placing the order, measure the pet's neck and chest at their broadest points. Afterward, consult the sizing chart. This harness is ideal for exceptionally tiny, small, and medium breeds. The four large reflective bands and 360° highly reflective strips offer excellent nighttime visibility. The No-Choke design guards against choking and tugging on the dog's trachea and throat. For added security, there is a quick-release buckle as well.
You may add your pet's ID tag and clip-on LED light to the front D ring. A separate loop is on the back to carry your dog's waste bags. Comfortable, light, simple to clean, and quick-drying soft mesh fabric is used to create this product.
The mesh enables the dog's body heat to dissipate via the vest in several directions, so it won't be stuffy even if your dog is playing or running outside. In addition, the harness is easy to put on and take off, making it ideal for dogs who dislike having tackles over their heads. Just insert their front feet into the opening, secure the buckle with the hook and loop tape, and done.
Conclusion
Your dog will feel most comfortable in a harness that fits precisely. An uncomfortable harness is either too tight or too loose. Some dog harnesses include plush cotton or faux fur interior. Your dog may feel more comfortable and easy if the material is breathable, particularly if they wear the harness during summertime.
A harness' design enables pressure to be transferred to various areas of your dog's body. When it comes to escape artists, a harness is also the safer choice. A harness can also allow you to lift your dog without inflicting pain or distress if they need aid to get up from a sitting or prone posture.
The ideal harness balances robustness, comfort, and portability. It is better to look for a durable harness for dogs that aren't constructed of something scratchy or rigid. Additionally, a sturdy harness is essential since a flimsy one might stretch or weaken when used with a strong puller.