People love their dogs and always prioritize their convenience and protection. For this reason, many dog owners choose an indoor dog home where they can keep an eye on their pets while ensuring they are as comfortable as possible. For those who don't have enough room in their backyard or garden for an outdoor kennel, indoor dog homes are the best alternative. An indoor dog home may also provide your dog a sense of inclusion while giving them a private place that's their own.
Whatever the reason you want to buy a dog house or crate, getting your dog's size and temperament is essential. If you are purchasing a crate, It's important to educate your dog that it is not a punishment. Never use the crate as a punishment or timeout location for your dog.
Most dogs will inevitably need to spend some time in a crate at some point in their life. The finest dog crates can provide your pup safety and protection while limiting their movement, whether you're flying your dog across the nation, going to the clinic, or crate training. Hence, your four-legged companion has a safe room of their own. Pet houses come in various styles, sizes, designs, and quality levels. You must consider these things and your pet's requirements when purchasing. To aid your search, we've narrowed down the top options below.
Product Description:
The durable and roomy Indigo Dog House from Petmate is a shelter made to keep animals cozy all year round. This insulated dog home has a robust design that keeps animals warm in the winter and cool in the summer. In addition, the enlarged, offset entryway protects dogs inside from the wind and rain.
This dog igloo's ventilated top distributes fresh air inside to encourage airflow. The side moats on the elevated levels are there to drain off moisture and keep the flooring dry. The PetMate Indigo pet home is suitable for various animals and comes in several sizes to hold animals weighing 25 to 175 pounds.
Pet owners may enhance their buddy's comfort by personalizing the Indigo Dog House with add-ons like the Petmate Indigo Door and Petmate Indigo Pad, both of which are sold separately. A dog house with a patented dome shape remains stable in strong winds. In addition, the Indigo Dog House has air vents on the roof that provide a constant flow of fresh air to keep canines happy inside.
Raincol Arf Frame Dog House
Product Description:
The CBrosey Raincol Arf Frame Dog House is perhaps the best wooden dog house on the market. The Arf Frame is one of Raincol's most well-liked dog houses and offers your pet a cozy home. In addition, many dog breeds that prefer a more compact den can utilize the Arf Frame Dog House as their habitat.
The Raincol Wood Dog Houses are made to be of good value, long-lasting, simple to put together, and comfortable for your pet. This Arf Frame Dog House is probably one of the finest options if you're searching for a stylish dog house with a wood finish. Its design is both modern and classic.
Additionally, the roof is sheet-lined for added security. In addition, it is made of strong and light wood. The wood used in Raincol dog shelters is Cunninghamia Lanceolata, sometimes known as "White Cedar" or "Stained Whitewood." This dog house's elevated floor also guarantees that the inside is always dry.
Kemulus Portable Dog House Teepee
Product Description:
The Kemulus dog house is an all-season fitted pet teepee with a machine-washable cushion, which is soft and self-warming.
The 3-side and top-wrapped design provide a highly secure and safe place for your pets, making them feel more relaxed and at peace. The Kemulus Portable Dog House Teepee is perfect for tiny pets like pugs, cats, and hamsters.
The jointed poles, cover fabric, and detachable soft cushion are all included in the packaging. In addition, it can be quickly assembled by putting the poles up.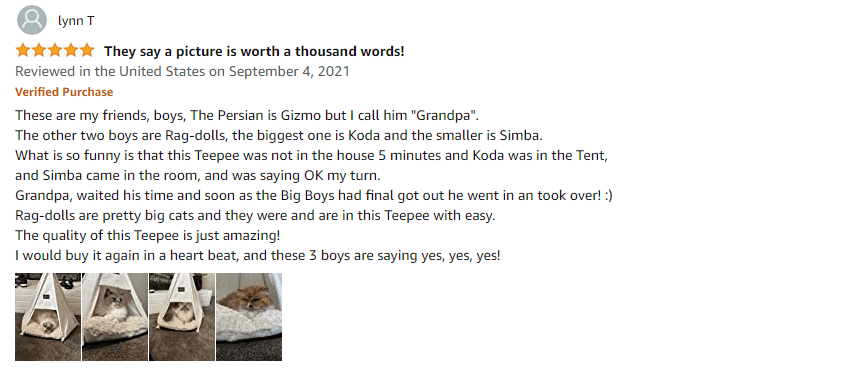 Ushang Pet Luxury Indoor Dog House
Product Description:
If you enjoy plush designs, you will love this brick plush house. The classic design allows it to mix with any interior design. Ushang Pet crafts pet beds and soft cottages with care to ensure longevity. High-density foam is supported by the body's lightweight, robust fabric canvas construction for effortless movement.
This portable pet house may be machine cleaned without losing shape and doubles as a softbox that simplifies transportation. This dog cave tent is simple to put up and take apart. Thanks to the velcro, it collapses into a flat, portable, and storage-friendly shape in seconds.
The size of this portable indoor dog house allows your pet a little bit of solitude and a pleasant sense of security. The interior is rather dark, which is suitable for anxious dogs. Additionally, it fits all breeds and sizes comfortably.


Product Description:
The Giantex is an attractive option if the colors of your home have warmer tones. We all adore pets as a part of our family, and with Giantex you will have a luxurious pet house thanks to the side ladder, elevated roof, and balcony bed. In addition, this indoor dog house has an elevated bottom to protect your buddy from dirt and wetness.
The Giantex pet dog home is simple to put together and comes with all the necessary tools. An easy-to-follow handbook makes it simple to put the device together. In addition, it helps you eliminate any assembly-related issues.
This wooden pet dog home has a traditional and appealing style that you and your dogs will find attractive. It is made to blend in with and improve your current surroundings. Your pet will undoubtedly like it and enjoy a good night's sleep on it, thanks to the robust side steps and lovely balcony bed.

DEStar Durable Waterproof Plastic Pet Dog House
Product Description:
An indoor dog home must be big enough for dogs of all kinds. This dog house's interior has been created with small dogs in mind. However, it is strong enough to be utilized on outside spaces like patios and backyards since it is made of thick, robust PP plastic that resists corrosion and rust.
Its five plastic cylinder feet at the bottom disperse the home's weight and increase the base's stability as a whole. Your puppy can always breathe fresh air thanks to the two vents at the top, which enable proper air circulation. Additionally, it helps to balance temperature.
The DEstar pet house's removable design and smooth top make cleaning simpler. In addition, this dog home is protected from severe rain by the sloping roof's swift water diversion.
PawHut 2-Level Wooden Pet House
Product Description:
With this fresh supply of Pawhut beds, stairs, and grooming tools, you can give your dogs the comfort they deserve. This dog house from PawHut is an excellent complement to any indoor space and was made exclusively for the small animals in your life.
This pet cage is made to improve your current surroundings with a timeless and appealing style that you and your dogs will like. It contains a comfortable bed-sized sitting space inside, a flight of steps that your pet may scale, and a rooftop deck with railings.
This pet tree house's weather-resistant, water-based paint is also perfect for outdoor use. This pet condo may be moved if necessary because it is lightweight, strong, and easy to handle. In addition, the intimate and pet-friendly design lets you relax without worrying about whether or not your pets are safe and comfortable.
Conclusion
Your dog will undoubtedly enjoy having their own home but will end up muddying it often. Wash the bedding regularly and remove any chewed toys or treat remnants your pet might have left behind. Regular cleaning will not only guarantee that your dog is content and comfortable, but it will also keep your house tidy and sanitary.
Always make sure your dog has enough room in the house to stand up, turn around, lie down, and enter and go via the door without difficulty. Dog homes that are too large won't keep your dog as warm as a friendly, suitably sized house. On the flip side, if they aren't big enough, your dog may not even want to use the house since it will be unpleasant.
Hard plastic or wood dog shelters perform far better outside than other types. However, it's crucial to remember that when there's a danger of rain, you should bring your wooden indoor dog home inside. Whether an indoor or outdoor dog house, your companion pet will benefit from having one as a warm, secure place.