Your dog's health depends on proper grooming, which involves trims. Haircuts keep your pet calm and may treat skin conditions, including matting. Regular appointments with the groomer are a terrific alternative, but they may be expensive and not always feasible. Dog grooming clippers are essential to your grooming kit and can be used to give your dog a trim at home between appointments.
Grooming shears are preferable for short localized trims, while dog grooming clippers work best for complete haircuts. Since dog grooming clippers are made for your pup's safety and fur, you must never use human clippers on a dog. To get rid of stray hair, thoroughly brush your dog's hair before giving them a haircut. Then, using the clippers, begin at the head and work your way back. If your dog's skin is thin, trim it using a comb and shears.
Few animals love people as much as dogs do, providing us with a lifetime of delight and fun. While taking care of an active dog is fun, it may sometimes be difficult when your animal needs to be groomed. When you're on a tight budget, getting your dog groomed may be pricey, depending on the state of its fur.
A dog breed that doesn't shed much has certain advantages, such as not needing as much time to sweep your floors or remove dog hair from your favorite clothes, but there are also some disadvantages. Because they don't shed, you'll need to clip their hair around every four to six weeks, and you may need to brush their coats frequently. Because frequent trips to the groomer can get expensive, many dog owners decide to buy an excellent set of dog clippers for do-it-yourself grooming.
Aibors Dog Clippers for Grooming
Product Description:
The high-carbon blades used in Aibors dog clippers are designed for easy grooming, snag-free cutting, and a pleasant experience for your pet. Your dogs will be safer thanks to an R-shaped clog-proof blade. With the Aibors providing you with professional quality at home, you'll take fewer trips to the dog groomer.
The Aibors dog clippers for grooming include a 2000mAh High Capacity Li-ion Battery that lasts three hours. Being cordless makes it possible to move freely and access even the most elusive places.
This dog grooming clipper offers significant power and speed without adding heat or noise to keep canines calm and enjoy brushing.
Wahl Deluxe Cordless Dog Clippers
Product Description:
The Wahl Deluxe can be used for full-body trimming for all dog breeds. You can groom anywhere with this battery-powered device's uncompromised cutting performance. In addition, the package includes color-coded guide combs that make it simple to determine the coat length you want.
The long battery life means that you may groom your pet several times before recharging is necessary, and the cordless and corded operation ensures that you never have to interrupt a grooming session to wait for a charge.
Wahl's High carbon steel blades are finely honed, self-sharpening, and easily cut through thick and heavy coatings. With 2.5 times more power than conventional pet clippers, Wahl's Powerdrive cutting mechanism removes even the thickest coats. This package includes everything required for pet grooming.

oneisall Dog Clippers Low Noise
Product Description:
The cordless function of this trimmer is very beneficial. Both cordless and charging use are possible. It has two adjustable speeds and is relatively simple to operate. The Oneisall dog clipper makes less than 50 dB of noise when in use. The low noise operation won't frighten your dog, and you'll be able to quickly and easily cut its coat.
It can be used for 150 minutes, while a full charge takes 2.5 hours. This dog clipper's rechargeable feature eliminates the need for new batteries. The Oneisall has an LCD to tell you when it needs to be charged and remind you when it is in use.
Start by bathing your dog to remove stray hair and filth. Then, remove dirt and knots in the second stage with a brush. After that, shorten the long hair with scissors, and shave any remaining fur with the trimmer.

Hansprou Upgraded Dog Shaver Clippers
Product Description:
The Hansprou professional pet clipper is perfect for cutting and grooming all kinds of animal hair. It contains a copper motor that is fast and quiet, allowing for simple and quick cutting. In addition, this clipper can deliver strong power and speed without excessive heat or noise.
It can quickly and painlessly remove pet hair and has an operating time of up to 8 hours. As a result, large pets don't need to be concerned about power outages.
It offers excellent cutting performance and prevents overheating compared to typical steel blades. Also, the blades are removable and straightforward to clean and replace. The Hansprou pet clippers make just 50 DB of noise when cutting hair, which makes dogs more comfortable and less scared. You can use the two adjustment modes to clip hair of various lengths.

Oster A5 Hair Clippers for Dog
Product Description:
The Oster Professional Dog Grooming Trimmer provides a quick and straightforward method for grooming animals and pets. These pet clippers effortlessly cut through thick, coarse, even severely matted hair, thanks to the broader blade sweep and powerful 2-speed universal motor that can produce up to 4,000 strokes per minute.
Grooming is more pleasurable since the universal motor is silent. In addition, two speeds are included on these electric clippers for maximum flexibility. At the same time, the high speed gives ultimate power for quicker trims and full-body shaves.
The low speed delivers accuracy and quieter performance, ideal for clipping temperate regions. It is suitable for horses, animals, dogs, and cats. In addition, the Oster Professional Turbo A5 Pet Clippers include a cleaning brush, new carbon brushes, blade oil, clipper lubricant, and a removable blade.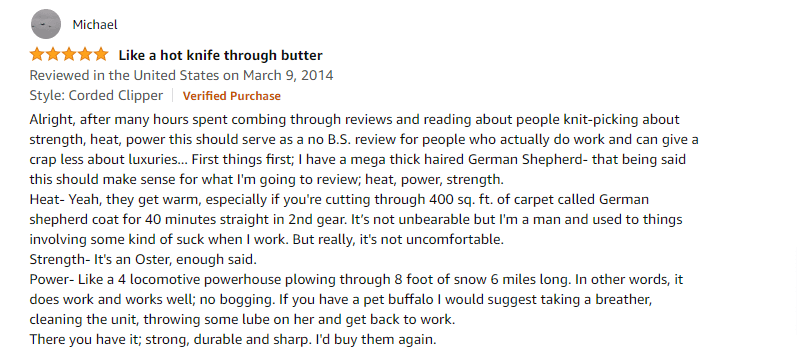 Andis Pulse Zr II 5-Speed Detachable Blade Clipper
Product Description:
If you own a breed with a curly coat, such as a Bichon Frise, Poodle, or GoldenDoodle, you'll adore the Andis Clippers' rotary motor! The robust engine prevents stopping or dragging, making even the most challenging task simple to complete!
You can quickly swap out the detachable blades without any equipment. Compared to other attachment combs, these provide an excellent cut finish. The Andis Zr II has single-speed, two-speed, and five-speed detachable blade clipper variants.
It has a much enhanced single charge runtime of three hours thanks to a lithium-ion battery. It works with both Ultra-Edge and ceramic blades.
Conclusion
You will definitely spend less time and money if you get a dog clipper for home usage. Some individuals use them instead of going to a grooming shop, while others give their dogs a quick touch-up in between trips. You can keep your dog looking neat by using a dog hair trimmer. Dogs slough off a lot, and those with dense double coats slough off even more. The shedding habits of Samoyeds, Huskies, and Golden Retrievers are well known. Regular grooming can also assist you in maintaining a spotless home and vehicle.
Some dogs have lengthy, tangle-prone hair. For example, Maltese and Yorkshire terriers require routine brushing to prevent mats and tangles in their fur. In addition, regular trimming provides you the chance to look for any skin or hair problems on your dog's skin.
Trimmers for pet grooming typically produce a substantial amount of heat. Many pet owners worry the heat may hurt their animals' skin and make them uncomfortable. Higher-quality devices will be better at controlling heat than less expensive clippers.
You need a trimmer that is simple to keep clean and maintain. The best ones have removable blades. Your clippers will stay sharp and operate if you use the oils advised, but you should use the kind suggested by the manufacturer. A cleaning brush and oil are sometimes included with specific clippers, which is a lovely touch.