A washable dog bed is an excellent solution if your dog requires a cozy bed that is easy to care for. The best washable dog beds are versatile and easy to care for. Many of these beds are machine washable, making cleanup simple. In addition, there are choices with machine-washable, removable coverings that can make them more practical.
Dog beds that are simple to clean are in great demand. Finding high-quality, simple-to-clean dog beds is the holy grail for many dog owners. The perfect dog bed combines two qualities: enjoyment for the dog and ease of maintenance for humans. A dog bed that the dog adores but is challenging to keep clean is an issue. Everyone likes the comfort of sinking into a warm, nice bed, even your dog. 
Additionally, dogs need as much comfort as they can receive during the day, which only a suitable dog bed can provide. Dog beds have only one drawback: they require a lot of care.
Brindle Shredded Memory Foam Dog Bed
Product Description:
The Brindle Pet Bed is made for easy maintenance and long-lasting comfort. High-quality orthopedic memory foam relieves pressure points while providing comfort with a soft but sturdy fabric cover. A comfortable, breathable sleep surface is made possible by the memory foam.
The detachable, machine-washable, dryer-safe softcover makes cleaning it simple. To remove and wash the cover, unzip it. Unfortunately, the Pad cannot be washed. When selecting a pet bed for your best friend, there are a few factors to consider, including where you will use the bed and how your pet sleeps. 
You should measure the space the bed will occupy if you intend to use it in the kennel or the automobile. Numerous pet beds by Brindle are made to meet typical kennel measurements. Consider your pet's sleeping posture if you want to use the bed in a room that isn't closed off, such as your living room or bedroom.
A compact, comfy bed is best for pets who want to cuddle up as they sleep. However, you might wish to size up to fit your dog if they stretch out in a snoring, carefree manner, occasionally chasing squirrels in their dreams. As a general guideline, add 10 inches to the length of your dog from nose to rump. These recommendations should assist you in choosing an appropriately sized bed.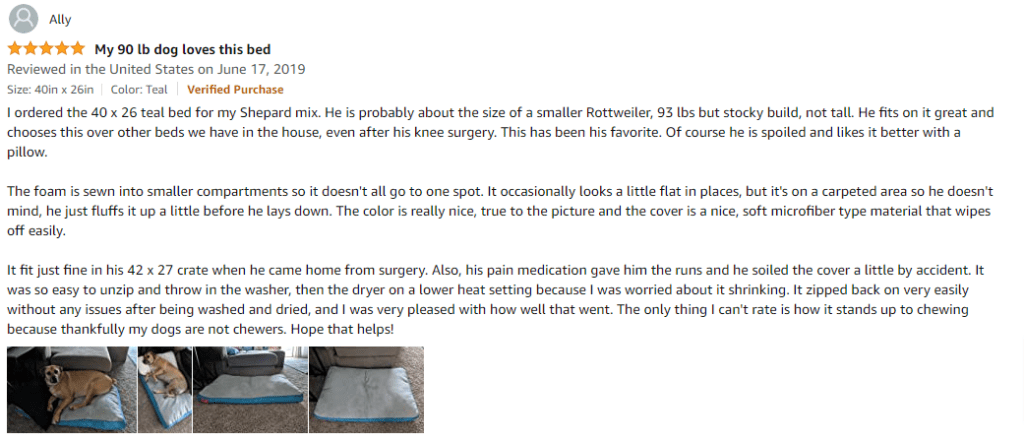 MidWest Homes for Pets Deluxe Dog Beds
Product Description:
Pet beds made of Ombre Swirl are the ultimate in comfort. This overstuffed pet bed has a stunning Light Gray to Charcoal swirl design on a velvety cushion, and it will undoubtedly make your pet feel like a king (or queen)!
The Ombré Swirl pet bed is durable and requires little upkeep. The ultra-soft polyester won't pill up like fleece pet beds, and the tufted, velvety poly-fiber cushion will withstand years of use. In addition, the bed is completely machine washable, so there's no need to struggle to take off a cover when it's time to clean.
The neutral hues of Ombré Swirl pet beds go well with any interior design. The non-skid bottom stops slipping and is excellent for hardwood floors. It works wonderfully as a stand-alone pet bed on the floor and fits all ordinary crates.
With its lovely swirl pattern that transitions from light gray to charcoal, the ultra-soft polyester mixes beautifully with any interior design. But the unparalleled comfort will be all your pet will notice. The Light Gray to Charcoal Ombré Swirl pet bed is offered in seven sizes and fits all common crates to make a cozy and pleasant pet home. 
In addition, these tough, machine-washable pet beds can withstand dirty paws. Wash each item individually on a cold, gentle cycle (without bleach), and tumble dry on low.
Thick Orthopedic Grade Memory Foam Pad
Product Description:
The mattress is incredibly comfy, allowing your dog to conform to the bed properly. Also, don't worry if your dog doesn't fit. This option has six different sizes, allowing you to pick the best one. You can swiftly zip and pull the detachable cover and wash it in the machine. 
Its inside is lined with a waterproof material that shields the mattress from spills. It also comes with two extra covers, so you always have a spare to put on when the first one wears out or needs to be cleaned. Depending on how destructive your dog is, they might be able to gnaw the parts.
Mattresses with memory foam are a good choice because they don't leave dents over time; they last longer. Given that it supports their body in all the proper areas, this option is also an excellent match for dogs with joint problems. This mattress provides the best combination of strength, comfort, and everything in between.


PetFusion Ultimate Dog Bed
Product Description:
The PetFusion Bed is also a recommendation for consideration if you want the best for your dog and don't care about excessive pricing. If your dog could use the extra padding, this bed provides a lot of support and comfort, so you won't be dissatisfied. It comes in four sizes and three contemporary color schemes.
This dog bed is a great option for elderly dogs with joint issues who want a little more support and a washable cover. These beds are constructed with human-grade CertiPur memory foam to provide your dog with the necessary support. In addition, to make your dog more comfortable, there are soft support bolsters on the sides and back.
The mattress on this bed is made of 4-inch orthopedic memory foam, and there are raised support bolsters all the way around for head support. The cover is extremely robust because it is both water and tear-resistant. It is also made of a soft-touch polyester/cotton mix, is machine washable, and is dryer safe. Replacement covers are also available if the cover does begin to deteriorate over time.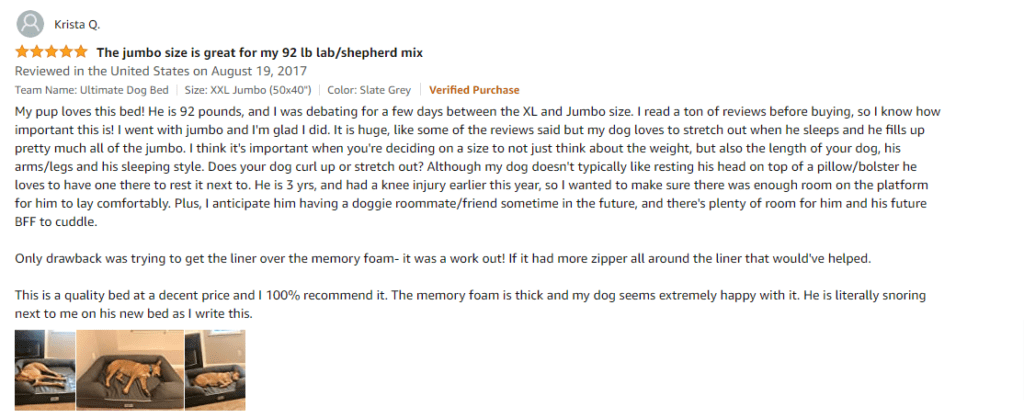 Stone Suede Bagel Dog Bed by Majestic Pet
Product Description:
Majestic Pet Products Inc is a leading producer of pet goods. Since 1994, they have produced high-quality goods and built a strong reputation in their industry. 
When your pet deserves only the finest, allow him to rest comfortably in a soft microsuede bolster bed. This dog bed from Majestic Pet is an excellent option if you have a little dog at home that adores cuddling. Its comfortable doughnut shape will give them a sense of security and lessen any fear they may feel. 
This cover has an incredibly snug and pleasant feel that is made to hug your dog's skin and promote sound slumber. It has a gray tint that will go well with the interior design of any house. This dog bed's structural layout guarantees it will fit well with any house. This Suede Dog Bed has been filled with top-notch polyester for maximum comfort.
This dog bed feels wonderfully smooth to the touch, and cleaning it is simple. You may wash the complete bed in a washing machine without harming the polyester filling. One drawback is that it must air dry. To clean up spills and avoid stains, the foundation is waterproof.
Conclusion
Dogs can be extremely rough on mattresses. Therefore, you should ensure that your dog's bed is built to last unless you have one of the few dogs that softly sleeps on its bed. You can do a few tricks to keep your dog's bed clean in between washes, regardless of the bed you buy or how well it can withstand a trip through the laundry. It will lessen the number of times you wash the bed while also keeping it looking fabulous. 
The PetFusion Bed should have caught your eye if you wanted to make an expensive purchase to extend the product's lifespan. It is fashionable, well-made, practical, and eco-friendly.